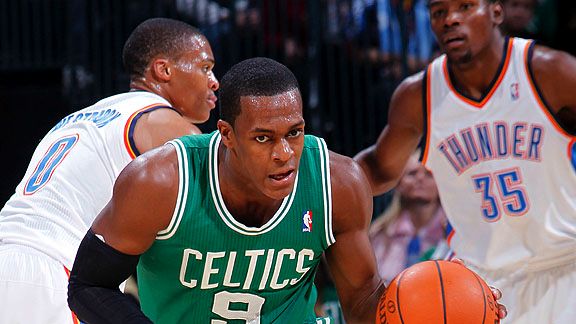 Some franchises have a history that is extremely difficult to make your mark in. With 17 NBA Championships and one of the richest traditions of excellence in NBA history, getting into the Celtics' pantheon of greatness and having your jersey hanging in the rafters is an extremely difficult proposition. Actually, it is so difficult individual jerseys are not hanging, there just is not enough room with all the championship banner. You get a box in a big banner with your number on it.
Paul Pierce, as the team's second all-time leading scorer and lifetime Celtic, will certainly have his No. 34 up in the rafters. The arguments for Kevin Garnett's No. 5 are being made since he has epitomized the Celtics new attitude in this era and he helped push the Celtics to that 17th title.
It might be too early to discuss the historical significance of Boston's No. 9. After all, Rondo won his championship as a second-year player and still something of an important role player at that time. Since then, Rondo has blossomed into oen of the best point guards in the league. Despite a questionable jumper, defenses have to know where he is at all times and worry about his ability to draw defenses in with his passing and dribbling abilities.
And one day, he hopes to be the definition of the Celtics past:
"It is kinda too early to place my mark on where I am in Celtic history as a point guard," Rondo said in an interview with ABS-CBN News. "But hopefully, by the time I finish my career, I'd be the best to ever play for the Celtics.

"In five years, I'll be 31 (years old). Hopefully, I have at least, and I say at least, two more championships, Maybe one. You never know. I expect to win every year I play."
Last year, Rondo averaged 11.9 points per game, but posted a league-best 11.7 assists per game and 1.8 steals per game. He is not only an offensive dynamo, but also one of the best defensive point guards in the league.
Last year was really his first season as the main guy for the Celtics. And Kevin Garnett since he first arrived has instilled a boisterous sense of confidence in the young player. It helped him grow and develop into the point guard the team needed to win that championship.
It is now his team and he has the respect of the players in the locker room, despite reported rifts with Ray Allen (now in Miami). Rajon Rondo is the Celtics present and future.
He certainly has the right Celtics attitude. Boston is used to winning championships by the banner load and you cannot be among the all-time Celtics greats without multiple championships. That is just the history the franchise has built for itself in nearly 60 years of play.
Rondo is going to have to prove himself as the franchise transitions out of the Pierce/Garnett era and into a team that is completely Rondo's. This will not be easy. Rondo is not a pure scorer and he will need another star to take defensive pressure off of him and take advantage of those nice assists and passing opportunities he creates.
It is hard to predict what is in Rondo's future. It is easy to forget he is just 26 years olds because of the impact he has had in the NBA, especially late in the season and Playoffs, for so long now. Rondo has literally spent his entire career competing for championships. I guess that already makes him a true Celtic.
Rondo has a long way to go to cut his own path and see his No. 9 up in the TD Garden rafters. He has a lot of career to get there.
But the greatest ever? Rondo may already be behind the 8-ball.
He is not a truly transcendent player like Bill Russell or Larry Bird were. Those two are undoubtedly among the top five players in the league's history (certainly at their position). Passing those guys is going to take some serious serious play from Rondo for the rest of his career. Not to mention the jewelry.
Rondo has, even already, secured his place among Celtics great. it is good to see him set his goals high for the rest of what should be a long career.
Everyone has doubted Rondo throughout his career — he was thrown on the scrap heap by Tubby Smith in two years at Kentucky — so this is just another goal to achieve and doubters to put to rest for the All-Star point guard.
Images: ESPN.com, Sportige.com