It's been a few weeks on vacation for our judge, but we're back to the courtroom of college football here at CBR and our judge is seated with gavel in hand ready to render another case closed on the college football docket.
One of the greatest things about college football and it's fans is the fact that there is always something to debate. Whether it's rankings, players, or teams there's always something to be talking about. Perhaps there is nothing that's talked about more than which conference is king.
Living in Big Ten country it's always the debate…. Is the Big Ten better than the SEC? Well, the consensus seems to be no, even amongst the fair minded and not blinded Big Ten fans out there. However, that debate can be extended to include other conferences out there. After all, when talking this topic there are a lot of things to consider.
I mean, what defines the best conference after all?
Is it their ability to compete for and win national championships year after year? What about the number of ranked teams and where they end up?
You could also argue that bowl game records matter as well as who the conference plays in non-conference games and their record against those opponents.
But, what about intra-conference play? Can any team beat any other in your conference games?
To be sure each one of these claims has merit to them and as we enter the 2012 season just a week away it's time to take up one of the biggest case loads we've seen to date. Up today is the case of the SEC dominance vs. the Big 12. The question to answer is "Is the SEC Still King of the Conference Heap?"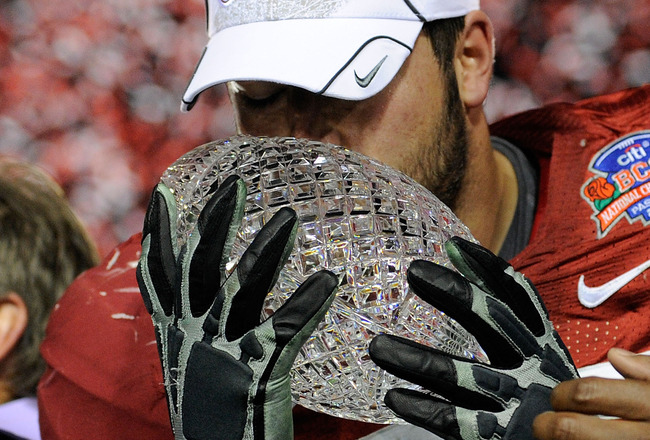 The Case For the SEC:
Well, this should be pretty simple if you really think about it your honor. We've won six straight national championships and sent two teams from the same division to the title game last season. No conference has ever done that before.
We enter this season with six teams in the AP Top 25, five of which are inside the Top 10, no other conference can say that last part. We have two of the top three teams in the nation depending on what poll you look at entering 2012 as well.
Our detractors may point out our out of conference schedules as being weak, but wouldn't you want to play a few easier teams if you were playing in a conference as hard from top to bottom as ours? I mean, we only had three teams with losing records last year and two of them were within one game of .500. Not exactly like we're playing the Kansas' or Indiana's of the world on a weekly basis in conference.
In 2012 we play at least one BCS level team per conference member as we play 14 games against BCS opponents as a conference.
Don't believe we've made a good enough case yet, try our bowl record from last season. We went 5-2 in the 7 bowl games that didn't have an SEC vs. SEC matchup (the National Championship game btw) with our only two losses coming to Michigan State and Cincinnati and even then we lost by just a combined 10 points with one of the games going into overtime.
As for expert witnesses I bring on the likes of Oregon and Penn State, whom we beat at a neutral site and on the road respectively just last year. They'll testify to just how hard it is to beat or even compete with an SEC team.
The Case for the Big XII:
Is there a more competitive league from top to bottom than the Big 12? I don't think so your honor. Just take a look at last season – Texas Tech went into Norman, OK and took down the undefeated Sooners. Iowa State then pulled the upset of the season taking down No. 2 ranked Oklahoma State in Ames with just one week left in the season. Not to mention their victory over Texas in Austin the season before and there are plenty more where that came from too.
Not only all of that, but we've gotten rid of two middle of the pack schools and replaced them with TCU and West Virginia – two schools that have made recent BCS bowl game appearances, so we've upped the ante even more with those additions.
We also submit to the court, when was the last time that a bottom third SEC team beat a top 5 program in conference play? I know I can't remember the last time that happened. So, your honor, I must submit to the court that the SEC is top heavy.
Unlike the SEC, we actually usually go out and play hard schedules outside of our conference. Sure, this year things get a bit easier than normal, but that's a blip on the screen. Still, of our 10 teams, 7 play fellow BCS schools (Maryland, Iowa, Miami, Notre Dame, Arizona, Ole Miss, and Virginia are on our teams' schedules).
We can also point to the fact that since the inception of the BCS we have sent 8 different members of our conference to BCS games (conference membership at time of BCS birth – since we are talking about the past that's the only right way to measure). That points out that our entire conference membership is strong enough to compete on a national scale.
We haven't even mentioned the fact that we also have six teams in the AP Top 25, the same number of teams as the vaunted SEC. Three of those teams are in the Top 15 with Oklahoma at No. 4, West Virginia at No. 11, and Texas at No. 15.
As for bowl games, well we went 6-2 with last year's conference members. Put in this years members and remove last years conference schools and it's still a 6-2 bowl game record. Just as good as what the SEC did last season.
The Verdict: I am issuing a continuance. Why not make a decision? Well, the make up of these conferences is different this season and that makes things a bit different in this argument. Now, if Missouri and Texas A&M go in and compete on a high level that may end up making the argument for the Big 12 fans. See, our mid-pack teams are equally as good as anything you guys in the SEC put out.
The SEC claims they beat up on each other week in and week out, yet that would mean parity in conference results, right? It doesn't happen as often as it should if all these teams are so good. In the past five years you can only point out a single example of this happening (South Carolina over Georgia in 2007)
I will say this much though that as of right now from top to bottom the SEC is NOT the best conference in the country. It's a conference with a few of the best teams in America and they populate the top of the conference. However, this is a conference that feeds on the bottom teams (both in and out of conference) year in and year out and then has a few of the top teams knock each other off. It's no different than what happens in the Big Ten or Pac-12. The Big 12 IS the most competitive from top to bottom as of late and pending review of the 2012 season I'm inclined to rule in favor of the Big 12 as the best conference in America for that reason, but I will reserve final judgement until after 2012.
Seeing Alabama vs. Michigan to star the season also will finally help to settle this argument a bit as well. One thing is for sure, this debate may not end anytime soon and this is just one man's opinions after all.
For more of our judges college football opinions make sure to check him out at MadTownBadgers, the Big Ten blog Delany's Dozen, and on twitter @andycoppens.