With the BCS era coming to an end in spectacular fashion, it just seems right to rank the 16 title games from least impressive to most impressive. Let's be up front about this — the ranking is usually based on the excitement of the game, but there's a chance the significance of the win plays a factor as well.
The 2013 BCS Championship is fresh in our minds, and it was one heck of a game, but is it the best of all-time.
Here is how we rank the 16 BCS National Championship Games.
16. LSU 38, Ohio State 24
Jan. 7, 2008
Louisiana Superdome (New Orleans, La.)
This was the title game that no one wanted to play in … or at least that's what it seemed like. In the final week of the season, Missouri and West Virginia were 1-2 in the BCS Rankings and both proceeded to lose.
This gave us Ohio State again and an LSU team that was a preseason favorite but lost two regular season games. Outside of the two programs in the game, it was hard to find many college fans who were excited about the matchup.
The Buckeyes looked like they were ready to show the SEC it could compete after taking a 10-3 first quarter lead. But then it fell apart in the second quarter.
Big play: Ricky Jean-Francois blocked a 38-yard Ryan Pretorius field goal attempt in the second quarter, which gave LSU the momentum.
15. Alabama 42, Notre Dame 14
Jan. 7, 2013
Sun Life Stadium (Miami Gardens, Fla.)
Notre Dame went undefeated and earned the spot in the title game, but no one took the Irish serious. Alabama controlled this game from the start and it was easily the biggest mismatch in the BCS title game history.
The game just didn't live up to the hype.
Big play: Eddie Lacy's 20-yard TD run started a 35-0 run for the Tide.
14. Alabama 21, LSU 0
Jan. 9, 2012
Mercedes-Benz Superdome (New Orleans, La.)
No one outside of Tuscaloosa wanted to see this rematch. LSU was asked to do the impossible — beat talented Alabama twice in one season. The Tigers won at Tuscaloosa and should have never been asked to do it again.
A.J. McCarron and the Tide didn't let the opportunity slip past them and Alabama actually dominated LSU from start to finish, but let LSU stick around as the Tide managed just five Jeremy Shelley field goals. Bama was actually favored in the game. This rematch is one of the reasons the BCS is history and we have a playoff now.
Big play: Trent Richardson's 34-yard TD run was the only touchdown of the game.
13. Florida 41, Ohio State 14
Jan. 8, 2007
University of Phoenix Stadium (Glendale, Ariz.)
The Gators were seven-point underdogs to an Ohio State team that had rolled through the regular season and had the Heisman Trophy winner in QB Troy Smith. However, Smith had a Heisman flop.
The Buckeyes did get off to a big start when Ted Ginn Jr. returned the opening kickoff 93 yards for a TD. But he was injured during the ensuing celebration and didn't play the rest of the game.
Florida QB Chris Leak closed out his career by throwing for 213 yards and a score as the Urban Meyer in Gainesville picked up its first national title.
Big play: UF lineman Jarvis Moss hit Troy Smith causing a fumble that was recovered at the OSU 5-yard line, which set up a touchdown that gave the Gators a 34-14 lead going into halftime.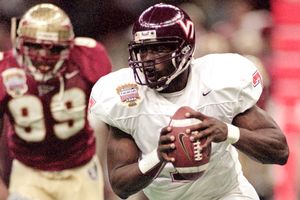 12. Florida State 46, Virginia Tech 29
Jan. 4, 2000
Louisiana Superdome (New Orleans, La.)
Just one year after getting upset by Tennessee in the title game, Florida State was close to making the same mistake against the underdog Hokies. Virginia Tech rallied in the third quarter to take a 29-28 lead. The Hokies should have actually led 34-28 at the time, but Frank Beamer made some questionable decisions — not kicking a field goal on the first series of the game and going for two-point conversions twice and failed.
FSU woke up in the fourth quarter and behind the passing of Chris Weinke and a standout performance by WR Peter Warrick, the Noles scored 18 unanswered points for the win. This game was also a coming out party for Tech QB Michael Vick, who threw for 225 yards and ran for 97 more yards. Bobby Bowden's team finished the season No. 1 — a spot the Seminoles held all season.
Big play: Backup QB Marcus Outzen's 16-yard pass Travis Minor on a fourth-and-short early in the fourth quarter ignited the FSU offense.
11. USC 55, Oklahoma 19
Jan. 4, 2005
Louisiana Superdome (New Orleans, La.)
This game was lopsided from the beginning as USC outscored Oklahoma 38-10 in the first half behind Heisman Trophy-winner Matt Leinart. The Sooners did score first, but it was all USC the rest of the way.
Leinart threw five touchdown passes and would have likely been the No. 1 overall pick in the NFL Draft that spring had he left early. However, Leinart returned and slipped in the draft. Also, USC had to vacate the win and championship due to NCAA sanctions.
Big play: Since there were so many big USC plays, the most memorable moment came at halftime when Ashlee Simpson's performance was mocked by the crowd.
10. Oklahoma 13, Florida State 2
Jan. 3, 2001
Pro Player Stadium (Miami, Fla.)
Many people consider this one of the worst championship games ever, but if you look closer this game should be respected more for what Oklahoma's defense was able to do to the Seminoles (who shouldn't have been in the game as Miami was clearly better that season and had the same record).
OU picked off Heisman winner Chris Weinke twice and made life miserable for the Seminoles all game. If not for a bad snap on a punt late in the game, FSU wouldn't have even scored. But let's give some credit to a defensive struggle.
Big play: Quentin Griffin's 10-yard TD run with 8:30 to play basically put this game away for the Sooners.
9. Alabama 37, Texas 21
Jan. 7, 2010
Rose Bowl (Pasadena, Calif.)
College football fans would still like to see how this game would have played out if Texas QB Colt McCoy hadn't been injured early in the game. Despite his loss and falling behind big at half, the Longhorns fought back and made a game of it.
As the game got close, Alabama scored back-to-back touchdowns in the fourth quarter to pull away. The final score makes this game look a little worse than it really was.
Big play: Marcell Dareus' interception on a shovel pass from Garrett Gilbert that he returned for a TD with only 15 seconds left in the first half.
8. Florida 24, Oklahoma 14
Jan. 8, 2009
Dolphin Stadium (Miami Gardens, Fla.)
Both teams entered the game with one loss and something to prove. It was a competitive game and had some drama that makes for a classic game, but not enough to put this one among the elite.
Tim Tebow and Sam Bradford had great seasons, but they combined for four interceptions in this game — which explains how this game was considered sloppy by most standards.
Big play: In the second quarter, UF stymied Oklahoma on a fourth-and-goal from the 1-yard line.
7. Auburn 22, Oregon 19
Jan. 10, 2011
University of Phoenix Stadium (Glendale, Ariz.)
Tied at 19 after Oregon's LaMichael James scored and a successful two-point conversion with less than three minutes, it looked like we would get our second overtime BCS title game.
But this game ended in exciting fashion with Wes Bynum connecting on a 19-yard field as time expired. This game doesn't rank higher, because besides the final five minutes, the rest of the game was sort of ho-hum, considering the talent on the field.
Big play: RB Michael Dyer appeared to be down after a 6-yard gain, but instead of hitting the ground he rolled over an Oregon defensive player and took off for a 37-yard gain.
6. LSU 21, Oklahoma 14
Jan. 4, 2004
Louisiana Superdome (New Orleans, La.)
Another title game that had some controversy before the game even started. Oklahoma still earned a spot in the contest despite losing to Kansas State 35-7 in the Big 12 Conference title game. The Sooners' Heisman Trophy-winning QB Jason White was brutal in the contest as he completed just 13 of 37 passes.
LSU's defense was stifling and went on to split the polls as USC defeated Michigan in the Rose Bowl and claimed the AP Poll.
Big play: Marcus Spears' 20-yard interception return for a touchdown in the third quarter pretty much sealed the win for LSU.
5. Miami 37, Nebraska 14
Jan. 3, 2002
Rose Bowl (Pasadena, Calif.)
This game was shrouded in controversy as Nebraska earned a spot in the contest despite not playing in the Big 12 Conference title game. Oregon should have gotten a shot at the Hurricanes, but let's be honest — no one was beating the Hurricanes on this night.
It was just fun to watch all of that Miami talent dominate and pull out to a 34-0 halftime lead. The Hurricanes had players like Andre Johnson, Clinton Portis, Jeremy Shockey, Ed Reed, Ken Dorsey and Sean Taylor. This was Miami's fifth national title, but the Hurricanes' lone BCS Championship.
Big play: Ken Dorsey's 50-yard pass to Andre Johnson to open up the scoring was just a glimpse of what was yet to come in this blowout.
4. Tennessee 23, Florida State 16
Jan. 4, 1998
Sun Devil Stadium (Tempe, Ariz.)
The inaugural BCS National Championship Game was actually the 1999 Fiesta Bowl and it pitted nearly unbeatable programs. The game itself wasn't one of the prettiest affairs, but the fact Phil Fulmer and the Volunteers won the first one was a big shock.
It was one year after Peyton Manning had graduated and left for the NFL, so the Vols were expected to take a step back. Instead, Tee Martin had a strong season and great title game.
Florida State's big-play offense was stifled by the Vols defense, but also because quarterback Chris Weinke was injured in the final regular season game. The Seminoles had no choice but to go with Marcus Outzen at QB and he struggled.
Big play: Tee Martin's 79-yard TD pass to Peerless Price in the fourth quarter that increased Tennessee's lead to 20-9.
3. Ohio State 31, Miami 24
Jan. 3, 2003
Sun Devil Stadium (Tempe, Ariz.)
The Buckeyes went undefeated during the regular season, but Jim Tressel's team had struggled in many games. Miami was on a roll to its second straight title as the Hurricanes were once again loaded with future NFL talent.
But Ohio State was ready to play and they gave the Hurricanes more than anyone expected and the game went into two overtimes. At the time this game was considered one of the greatest championship contests of all-time as OSU entered the game as a big underdog.
This was also the moment when the whole nation got to see Maurice Clarett at his best.
Big play: Field judge Terry Porter's late flag in the first overtime for interference on Miami defender Glenn Sharpe.
2. Florida State 34, Auburn 31
Jan. 6, 2014
Rose Bowl (Pasadena, Calif.)
As tempting as it is to pick the final BCS National Championship Game as the best, the Seminoles' come-from-behind win comes up one spot short.
Auburn dominated the first half and looked like it would continue the SEC's mastery in championship games. But Florida State came to life in the second half behind Heisman-winner Jameis Winston.
This game had a great finish.
After the Tigers extended their lead to 24-20 on a Cody Parkey field goal, Levonte Whitfield returned the ensuing kickoff 100 yards to give FSU a 27-24 lead with 4:31 remaining. Auburn responded with an 8-play, 75-yard drive that was capped by Tre Mason's 37-yard TD run.
Down 31-27 with only 1:19 to play, Winston guided the Seminoles on a 7-play, 80-yard drive. He closed it out with a 2-yard TD pass to Kelvin Benjamin with 13 seconds to play.
Big play: Karlos Williams' 8-yard run on a fake punt that set up Florida State's first TD in the second quarter.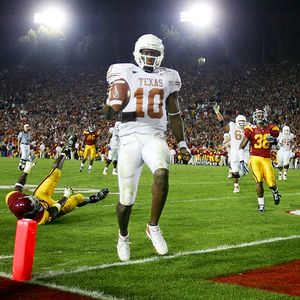 1. Texas 41, USC 38
Jan. 4, 2006
Rose Bowl (Pasadena, Calif.)
In spite of what we witnessed in the final BCS title game, this Vince Young classic remains the top game of the era. Young put the Longhorns on his back and led them to a win in this back-and-forth contest.
USC played well enough to win, especially Matt Leinart, who threw for 365 yards and a touchdown. Heisman-winner Reggie Bush had one score, while rushing for 82 yards and adding 95 yards receiving.
This nail-biter was the last time a non-SEC team had won the big until FSU's win Monday.
Big play: Vince Young's 9-yard TD run on fourth-and-5 with seconds remaining the game is one of the BCS era's most iconic plays.