The newly anointed Miami Marlins officially ushered in a new era of baseball in Miami, opening the (stateside) 2012 Major League Baseball season at their sparkling new and extremely bright new stadium. This new brand of Marlins baseball, featuring home white uniforms with "Miami" not "Marlins" on the front, is loaded with guns for hire fished out from among the best this winter's free agent market had to offer.
Throughout ESPN's broadcast, in-crowd cameras showed numerous Marlins fan dawning their crisp new neon orange Marlins hats. Seeing these images reminded me of the good ole' days of Marlins baseball. A time when the hats were still an atrocious and blinding bright color, but far from orange. The day that popped into my mind was none other than the Marlins home opener in the summer of 1993. The bright color was teal. The opening day pitcher was knuckleballer Charlie Hough. Somewhere I have a VHS tape that recounts the Marlins PA announcer as he introduced Hough to the crowd.
"Wearing number 49, but feeling more like 45 these days, Charlie Hough!"
Come with me now on a trip back in time. A time when fish were teal and Benito Santiago put a zero before his nine.
Leading off: Center fielder, Scott Pose – Pose entered 1993 coming off of a breakout season at Double-A the year before. That year he hit .342/.414/.426, which certainly caught the eye of the newly formed Marlins, who took him in that offseason's rule-five draft. However, Pose didn't live up to his minor league numbers, hitting only .195/.233/.244 in 15 games with the Marlins. He would bounce between the majors and minors – mostly minors – for the rest of his career.
Batting second: Second baseman, Bret Barberie – Barberie was the third selection by the Marlins in the 1992 expansion draft. He held his own defensively and had a .356 career OBP, but his career was over three years later at age 28.
Batting third: Right fielder, Junior Felix – The 59th pick of the 1992 expansion draft, Junior Felix hit .238/.276/.397 for the Marlins at age 25 in 1993. He spent the next season with the Detroit Tigers, the following season at Triple-A, and then the next five years bouncing around the Mexican League.
Cleanup hitter: First baseman, Orestes Destrade – Maybe you've seen this man on T.V. before. Chances are, you've never seen him in a big league uniform. Orestes hit 20 home runs in 1993, after playing the previous four years in Japan, but hit only .255 with a .324 OBP. He played in 39 games for Florida in 1994, then spent the last year of his professional career back in Japan.
Batting fifth: Third baseman, Dave Magadan – Magadan started the season as the Marlins third baseman, but was soon replaced by Gary Sheffield, who was part of the trade that sent Trevor Hoffman to the Padres. Over his career, Magadan became somewhat of an undervalued player. By the end of his career he had draw walks in 14.5 percent of his plate appearances and struck out in only 11 percent of those plate appearances. Thought he never hit for much power, Magadan ended with a .288 AVG and .390 OBP.
Batting sixth: Benito Santiago #09 – That's right, the then young 28-year-old Benito Santiago, who signed as a free agent from the San Diego Padres, actually wore the uniform number 09. Though he continued to thrive as one of the best defensive catchers in baseball, Santiago posted a terrible .671 OPS in 139 games in 1993.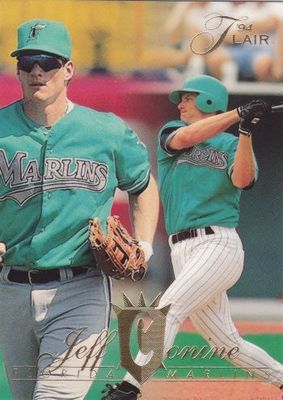 Batting seventh: Left fielder, Jeff Conine – The future Mr. Marlin was the only player on the 1993 Marlins to play in all 162 games. 1993 was his first full major league season, but Conine proved to be a late bloomer, garnering MVP votes in 1994 and 1995. He ended up playing eight years in Florida, hitting .290/.358/.455 during that stretch.
Batting eight: Shortstop, Walt Weiss – Weiss, who called his seemingly life-long glove, "The Thing", played only one season for the Marlins, in which he posted .367 OBP and played his high standard of defense.
Starting pitcher: Charlie Hough – Hough went 9-and-16 that season for the Marlins, with a 4.27 ERA in 204.1 innings, posting 2.2 WAR. Not bad for a 45-year-old. His next season would be his last. Hough retired with 216 wins and 216 losses and 37.5 WAR in 25 seasons.
Bret Barberie got the first hit in Marlins history (BOT 1) that day and starter Charlie Hough recorded their first win. The final score was 6-3, Marlins over the Dodgers.
Other notables on the 1993 Marlins
Chuckie Carr (if not just for the name) – Carr ended up playing the majority of games in center for the Marlins in 1993 where he stole a major league leading 58 bases and finished fourth in NL Rookie of the Year voting. He was also caught stealing a league leading 22 times. 1993 would end up being Carr's career year. Five years later his major league career was over. He would spend the rest of his playing days in and out of independent leagues.
Carl Everett – Always considered a huge talent, Everett starter his career in the Marlins organization, appearing in 11 big league games in 1993. He was rated as the 32nd best prospect in baseball by Baseball America before the '93 season. Everett would never live up to the hype, fighting discipline and anger issues all the way to a career line of .271/.341/.462.
Robb Nen – Nen served as a dominant reliever for much of his career before being forced from the game at age 32 due to problems with his rotator cuff. He is still the current leader in saves for the San Francisco Giants with 206, although Brian Wilson is only 36 behind.