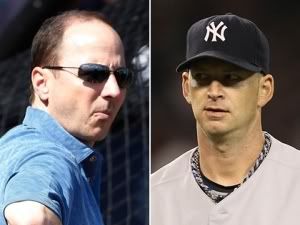 Men are natural procrastinators. This is probably why a majority of you reading this didn't buy your special lady anything for Valentine's Day until your drive home from work this last Tuesday evening. You should be ashamed of yourself. Your mother taught you better than that.
But fret not, because you aren't alone. Men procrastinate in all walks of life. Some of us wait until the last minute to pay our bills. Others of us didn't study for our final exams until 11 PM the night before. There are also those of us that don't bother to fill out prep for that big meeting at work until the last minute. And then there is that very small group of men that waits until just before Spring Training starts to fill out the final holes in our baseball team's roster.
Yes, even some of the hard working, highly accomplished, highly paid MLB general managers haven't bothered to finish putting together their rosters even though pitchers and catchers start reporting to camp this weekend. Men, will we ever learn?
Fortunately, some of us are properly motivated and can complete tasks on time (I totally bought my wife her Valentine's Day card on Tuesday morning) and can lend some advice to the league's most offending dawdlers.
New York Yankees – Trade A.J. Burnett and add a DH
In Brian Cashman's defense, he kind of had some stuff to deal with back at home, so he gets a bit of a free pass. While he may have a hard time cleaning up his mess of a marriage, the Yankee roster should be a good bit easier to tidy up. He's been dangling A.J. Burnett pretty much ever since he pulled off the trade for Michael Pineda. While only a few teams have given him a cursory nibble, the Pittsburgh Pirates are the only ones that bit hard. The Buccos aren't offering much in return, but Cashman should just cut his losses on Burnett and take whatever middling prospects the Pirates are offering. There's no sense in risking them pulling out due to frustration with how long this is all taking. From there, Cashman can then use the money he saved in dealing Burnett to sign a left-handed platoon mate for Andruw Jones at DH as the trade market for such players isn't particularly robust right now. Between Johnny Damon, Hideki Matsui and Raul Ibanez the Bombers actually have some not awful options. Just pick one and move on. If it doesn't work out, much better alternatives should come available by the trade deadline.
Tampa Bay Rays – Trade either Wade Davis or Jeff Niemann

They say you can never have too much starting pitching, yet that is exactly the situation Andrew Friedman finds himself in right now. He's got six starters for five rotation spots, so somebody has to go. That somebody will be either Wade Davis or Jeff Niemann, neither of which are particularly good, but they are both young and under team control for the next few years, so they should be able to fetch a nice return. Friedman could flip either pitcher for some more prospects to add to his already bountiful farm system, or he could try and boost his big league team's chance at contending by addressing the shortstop or catcher position. Perhaps the Angels would part with Maicer Izturis and a prospect for the chance to bolster the fifth starter spot in their already stellar rotation?
I'm not too worried about this one. Andrew Friedman knows what he is doing, he'll figure it out. In fact, he'll probably smartly wait until close to the start of the regular season for some team to lose a starting pitcher to injury and immediately start panicking. Then there Friedman will be with two lovely back-of-the-rotation starters for that GM to pick from, so long as he is willing to overpay.
Boston Red Sox – Add another starting pitcher

You'd think that after seeing their playoff hopes be dashed amidst an epic collapse that was induced by a thin starting rotation being ravaged by injuries would've prompted a rookie GM to address that giant sinkhole of a problem. Apparently not. As of right now, Jon Lester and the injury-prone duo of Josh Beckett and Clay Buchholz front the Red Sox rotation with converted relievers Daniel Bard and Alfredo Aceves rounding out the staff. The options after that are Vicente Padilla, Clayton Mortensen, Aaron Cook and Andrew Miller.
Yikes.
Maybe Ben Cherington simply believes that lightning can't strike twice so the rotation will just magically remain healthy and productive. That obviously would be very, very stupid to believe. It is also very, very stupid that the Red Sox haven't just signed Roy Oswalt already. He is the very definition of a logical fit. He also really needs a job. Rumor is that he wants to play for the Cardinals, but St. Louis hasn't been very eager to fulfill that wish. Time is running out for both Roy and the BoSox, so let's just all quit acting so proud and get these two together, eh?
Chicago Cubs – Finally resolve the Theo Epstein compensation dispute

Honestly, this is just ridiculous. These negotiations have been going on for months and yet they don't appear to be anywhere near a resolution. Either Bud Selig needs to step in or Epstein should be forced to move back to Boston and sit all by himself playing solitaire on a laptop in a vacant office at Fenway Park until he quits being so stubborn and complete what is essentially a trade for himself. Here's an idea, why not Chris Volstad to Boston? As we just talked about, the Sox need starting pitching depth and Volstad qualifies (barely). Besides the Cubs only just got him in exchange for excising the Zambrano-shaped tumor from their locker room, so they still come out ahead in that transaction.
Washington Nationals – Trade John Lannan and add a real CF

This really should be easy to solve. Lannan is the odd man out of the rotation after the Nats added Edwin Jackson. But the Nats also desperately need to save themselves from playing the entire season with Jayson Werth as their everyday center fielder. Ideally, they would be able to kill two birds with one stone here. At the least trade deadline, Washington came awfully close to acquiring Denard Span from the Twins for closer Drew Storen. Minnesota eventually thought better of it, but Span is now coming off an injury-plagued and mildly disappointing season, so perhaps they'd reconsider. The Twin rotation is hardly the envy of baseball, so Lannan would be a welcome addition, especially since Lannan doesn't hit free agency until after the 2013 season. Such a swap might require both teams to add more pieces to the package, but there is a base for a smart deal for both sides here. If that fails, the Oakland Athletics suddenly have a glut of outfielders and could surely be convinced to part with Coco Crisp.