The 32nd edition of WWE Survivor Series takes place this Sunday night at the Staples Center in Los Angeles. While Survivor Series is known as one of WWE's "big four" pay-per-view events along with WrestleMania, Royal Rumble, and SummerSlam, it really doesn't feel like a big show compared to those three events.
For the third year in a row, Survivor Series is built around Raw vs. Smackdown matches, which means that none of the major championships are on the line. It's hard to sell fans on a show where there are no potential title changes other than the Cruiserweight Title.
The match that I wanted to main event the show was Ronda Rousey vs. Becky Lynch, but unfortunately, it's not happening now due to Lynch suffering a "broken face" (more like a broken nose) and concussion due to a stiff right hand from Nia Jax on Raw. While fans are disappointed that Rousey vs. Lynch is off, it could be a blessing in disguise because WWE realizes how hot the rivalry is right and there are reports that Rousey vs. Lynch is likely going to headline WrestleMania. The absence of Lynch does hurt the lineup, but Charlotte Flair is a very good replacement.
Here's the full lineup with eight matches:
Men's 5-on-5 Elimination Match: Team Raw captained by Baron Corbin, who is not wrestling (Drew McIntyre, Dolph Ziggler, Braun Strowman, Finn Balor, Bobby Lashley) vs. Team Smackdown (The Miz as team captain, Shane McMahon, Rey Mysterio, Samoa Joe, Jeff Hardy)
Raw's Universal Champion Brock Lesnar vs. Smackdown's WWE Champion Daniel Bryan
Raw Women's Champion Ronda Rousey vs. Smackdown's Charlotte Flair (replacing Becky Lynch)
Women's 5-on-5 Elimination Match: Team Raw captained by Alexa Bliss, who is not wrestling (Nia Jax, Mickie James, Tamina, Natalya, Ruby Riott) vs. Team Smackdown with no captain named (Asuka, Carmella, Naomi, Sonya Deville, ????). We are waiting on WWE to announce a fifth member of the team that could be Mandy Rose (that's my pick), Lana, Peyton Royce or Billie Kay.
Raw's Intercontinental Champion Seth Rollins vs. Smackdown's United States Champion Shinsuke Nakamura
Raw Tag Team Champions AOP (Akam & Rezar) vs. Smackdown Tag Team Champions The Bar (Sheamus & Cesaro)
Cruiserweight Championship: Buddy Murphy vs. Mustafa Ali
KICKOFF SHOW: Tag Team 10-on-10 Elimination Match: Team Raw (Bobby Roode & Chad Gable as captains, Lucha House Party, The Ascension, The B Team and The Revival) vs. Team Smackdown (The Usos as captains, New Day, Sanity, Luke Gallows & Karl Anderson and The Colons)
There could be another match or two added before Sunday because the Kickoff Show runs for two hours, so they have time to fill.
There are some big names currently not scheduled for a match at Survivor Series. Guys like AJ Styles, Randy Orton, Dean Ambrose, Finn Balor, and Elias are the biggest omissions, yet tag teams that never win like The Ascension and The Colons are on the card. It's very strange.  Some women that used to be champions like Sasha Banks and Bayley are not in the women's match either. As we know from watching WWE over the years, plans can change during the show. There may be some sneak attacks, leading to a replacement in a mtch.
Two of the matches are heel vs. heel – the Tag Team Champions match and Lesnar vs. Bryan, now that Bryan is a heel WWE Champion, which I wrote about earlier in the week. The crowd reactions for those matches will be interesting. Here are my ten predictions.
10. Smackdown's Tag Team division will dominate Raw's much weaker teams
When looking at the Kickoff Show match, it's obvious that Smackdown has the much group of teams. led by all-time great times such as The Usos and New Day. I like the Sanity trio a lot, so hopefully they can be used better soon. Gallows and Anderson haven't done much on Smackdown while the Colons are just there to lose. That's their role.
If you look at the Raw side, it's so weak. I think the creative team has done a poor job of making fans care about the division. The team of Bobby Roode and Chad Gable could have a good run in the match because I think WWE wants to establish them as future opponents for AOP. I doubt they will go far enough to win the match. Lucha House Party are new to Raw and that could get them an elimination or two.
This one will suck for the fans in the arena because at the start of the match there will be 18 guys on the apron watching while two guys are in the ring. In the end, I think The Usos and New Day are going to stand tall as the survivors in the match.
9. Buddy Murphy will retain his Cruiserweight Championship against Mustafa Ali
This should be one of the best matches of the night as long as they get about 15 minutes or so. I know there are a lot of people reading this that don't watch 205 Live, which is okay because there's so much WWE content in a regular week. I'm telling you, though, this will be a special match because these two have had some awesome encounters in the past.
Murphy impressed a lot of people when he won the Cruiserweight Title from Cedric Alexander at Super Show-Down. Ali has come close to winning the title a few times and I can see him nearly winning here too, but I'd rather keep it on Murphy as a heel champion that can hold onto the title long term.
The clip I posted above is from a match that Murphy and Ali had in July that was one of the best matches of the year. I don't expect this to be that good, but it's an example of how awesome these guys are.
8. AOP will prove they are WWE's most dominant tag team when they defeat The Bar
This tag team match has a chance to be good if we get to see AOP (Rezar and Akam) booked in a way where they sell the moves of their opponents to have a competitive match. Since joining Raw, they haven't done much other than dominate people. When they were in NXT, they had some incredible matches with smaller teams. Sheamus and Cesaro aren't a smaller team, but they work well together.
My concern with this match is the crowd. I just don't see the fans getting into the match at all since they are two heel teams that have no interest in getting the crowd to support them. There may be some comedy involved with the giant Big Show chasing after the much smaller Drake Maverick. Big Show is nearly two feet taller than the guy, so that will provide an interesting visual if they did a spot outside the ring.
The reason I'm going with AOP is because I think WWE will want them to win as the younger team that could use a meaningful win to show that they are the better team. Plus, Raw's tag team division sucks other than AOP, so at least if AOP is booked in a way where they look dominant, the announcers can put over the idea that Raw's tag team division isn't that bad.
7. Dean Ambrose will be the reason why Seth Rollins loses to Shinsuke Nakamura
There are a few ways that the first time ever Rollins vs. Nakamura match can go, but I don't expect a clean finish. That's because Dean Ambrose has no role on the Survivor Series lineup. That doesn't mean he's going to do nothing, though.
What I expect is for Rollins and Nakamura to have a very competitive match with a lot of nearfalls for each guy. The crowd will likely get into it because Rollins is as good as anybody on the roster in terms of getting crowd reactions and doing exciting things to keep the fans into it. I also expect Nakamura to work his ass off to put on a great showing against a guy he has probably wanted to wrestle with for a while. Any time there's a "first time ever" match between two greats, that's something for us to looking forward to.
The finish will probably see Ambrose show up to trip up Rollins or attack him outside the ring without the ref seeing it. It could also be just a distraction where Ambrose is in the crowd or his music plays to take Seth's attention away from Nakamura, which could lead to Nakamura capitalizing with the Kinshasa knee strike.
This should be a very good match that gets around 15 minutes. Nakamura gets the win thanks to Ambrose, who will likely challenge Rollins for the Intercontinental Title at TLC next month.
6. Nia Jax will be booed more than anybody on the show and receive plenty of "Becky" chants
Before I get to the prediction for the women's elimination match, I needed to make this point about the crowd reaction for Nia Jax.
I think the crowd will be strongly against Nia Jax during the match with chants for Becky Lynch. The fans know that Jax is the reason Lynch isn't wrestling on the show due to injury and they are going to let Jax know they are upset with her. That could make the match more fun if Jax is smart enough to play off the chants of the fans.
You gave me your best sucker punch, but I got back up to destroy your whole roster. They won't let me fight, but I'll get back up from that too. It's what I do. So enjoy your one free shot, because as bad as my memory is now, I haven't forgotten you, bitch. https://t.co/4dZW4hCmaf

— The Man (@BeckyLynchWWE) November 14, 2018
When Jax tweeted about the Lynch injury, she did not show remorse for what happened because Jax is smart enough to know that she's a heel that should act like a heel on Twitter. Some fans don't seem to understand that, but most wrestlers do. Lynch responded in kind by calling her a bitch.
I have a feeling that the crowd reaction against Jax will be one of the most talked about things on this show because of how popular Lynch is. It will be music to the ears of WWE's creative team now that Jax is back in the heel role.
5. Asuka and Naomi will win the women's elimination match for Smackdown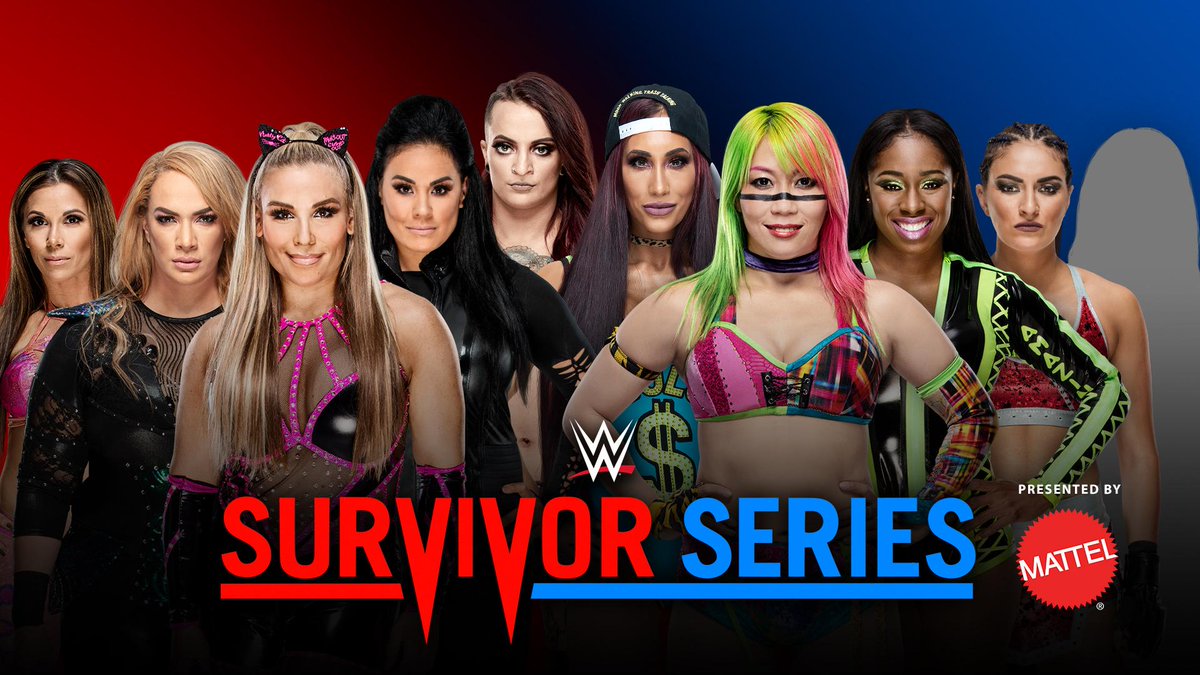 The obvious pick for the women's elimination match is to go with Nia Jax and possibly Tamina as the sole survivors. Jax was the obvious pick at Evolution as well, but I thought Asuka would win. Nope. They went the obvious route at Evolution. Jax winning at Evolution makes sense since she turned heel soon after.
In this match, it makes more sense to build up some of the Smackdown women that could use the momentum to become the next challenger to Becky Lynch's Smackdown Women's Title in the future. There has yet to be an Asuka feud with Lynch, so that's the direction I would go in. Naomi is another option because she's a popular wrestler that hasn't been used well this year.
Another prediction for this match is that Ruby Riott and Natalya won't get along, so I can see Riott attacking Natalya from behind leading to Natalya getting pinned. After that, Natalya can cost Riott her spot in the match too. Mickie James will likely do well as an experienced veteran on her team.
I'm going with Asuka and Naomi to win, although this is far from a lock because I can see Jax and Tamina winning too. This prediction is also based on other match predictions on the card.
4. Ronda Rousey will defeat Charlotte Flair while Becky Lynch watches on from ringside
It's difficult for me to pick against Raw Women's Champion Ronda Rousey because she's been booked as an unbeatable champion since her first match at WrestleMania earlier this year. If she was wrestling Becky Lynch, I would pick Rousey too although that's a tougher prediction.
Charlotte Flair is one of my favorite wrestlers in the company. She gets better every year and has a lot of credibility due to all her success on the main roster in the last three years. As a face, she's not going to brag about being a 7-time Women's Champion in three years, but the fans know what she can do. She'll be able to stay with Rousey, who is a freak athlete as well, so I'm sure they will have some cool spots planned as they prepare for the match.
I expect Lynch to be there for the match and she'll likely watch it from ringside. I don't think Lynch will be involved in any way physically because it would be silly to have her take bumps when she suffered a concussion and a facial injury. Perhaps she will feel better by Sunday, but it's not smart to have her take bumps in that condition. Be smart about it. If there is any physicality, they can do it after the match where Rousey and Lynch have a stare down, then it turns into a shoving match with referees in there to break it up. Tease a fight, but don't give it away. Save it until WrestleMania.
This match has sleeper potential because of Rousey's ability to step up on the big stage. She has exceeded expectations in her rookie year in WWE. I can see them getting 10-15 minutes with Rousey getting the win with the armbar. Charlotte won't be hurt by a loss although they could use it to motivate her since she would be coming of big losses to Lynch and Rousey.
3. Brock Lesnar will beat Daniel Bryan in a competitive match and AJ Styles will hit a low blow on Bryan after the match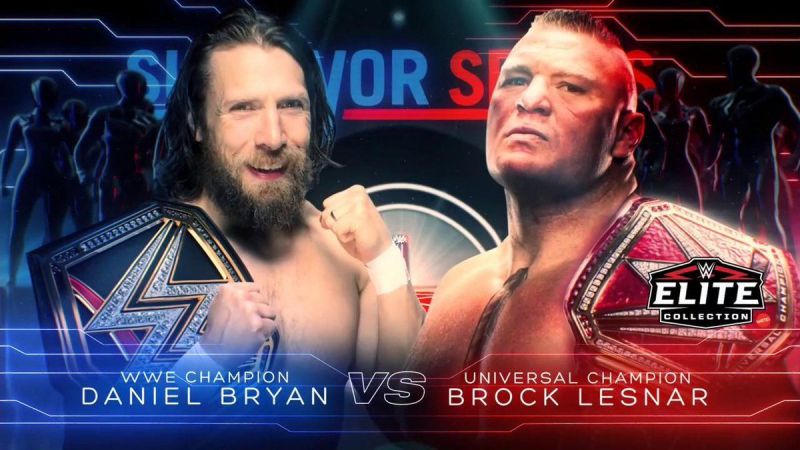 It's two predictions in one. First of all, I expect Lesnar to beat Bryan in a match that gets over ten minutes with Lesnar showing a willingness to sell for Bryan. I think Lesnar will enjoy working with Bryan just like he did last year when he went about 20 minutes with AJ Styles. Lesnar has an appreciation for the best workers.
The issue with the match taking place is that they are both heels, so I don't expect the crowd to be as involved like they would be if it was face vs. heel. My guess is that the crowd may cheer Lesnar more because Bryan just turned and will probably do more heel tactics in the match. When it comes to Lesnar, some fans cheer his power moves.
There's also concern about the health of Daniel Bryan. We all know that Lesnar isn't the safest guy in the ring even though he's been a pro wrestler for nearly 20 years (he started training in 2000). Look at how Lesnar tossed Sunil Singh around the ring on Raw when he dropped him on his head a few times. I don't want to see Bryan, who has a history of neck and concussion issues, getting thrown across the ring leading to a dangerous head bump. Those aren't necessary. Please Brock, opt for the safer German suplexes in this match.
Lesnar will probably get the win with a F5 after 15 minutes. After the match, I'd love to see Bryan saying that the loss didn't matter because he's still the WWE Champion. He can do "yes" chants on his own, which could set up for AJ Styles to show up with a revenge attack that leads to a low blow kick to the groin. The crowd would love it while also setting up Bryan vs. Styles in a WWE Title rematch at TLC next month.
2. Randy Orton will replace somebody on the Smackdown team
Me not being in the traditional #SurvivorSeries match for the 11th time even though I am the GOAT in that particular match. And @AJStylesOrg got kicked in the nuts. Again. https://t.co/sY4qFr2nPX

— Randy Orton (@RandyOrton) November 14, 2018
The tweet above shows that Randy Orton is bothered by the fact that he's not on the Smackdown team at Survivor Series. Whether it's in character (most likely) or those are his true feelings doesn't matter. The man has a point. Orton has had as much success at Survivor Series as anybody in WWE history, so it's silly that he's not even on the Smackdown team this year.
What I think might happen is Orton will attack either Rey Mysterio, Jeff Hardy, or Shane McMahon to take them out of the match. Of the three choices, I would prefer Shane, but we all have to remember that the guy making the decisions on this show (Vince McMahon) has the same last name as Shane. I think Jeff Hardy is the most likely to be replaced, but Rey Mysterio is the better choice.
If Orton takes somebody out of the match and steals their spot, it sets up a future match. In Jeff's case, Orton already feuded with him, so Mysterio makes a lot of sense as the guy that is removed from the match.
1. Braun Strowman and Drew McIntyre will be the survivors in the men's elimination match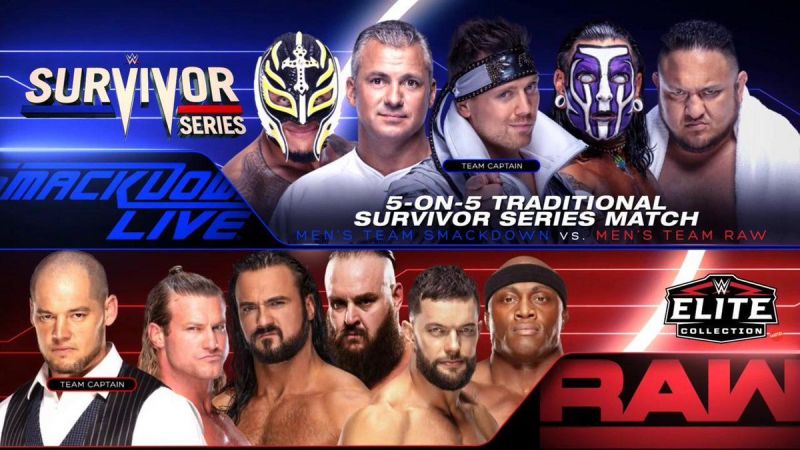 The Smackdown team won the men's elimination match in 2016 with Bray Wyatt and Randy Orton as the survivors. Last year, Triple H and Braun Strowman were the survivors on the Raw team. Who breaks the tie this year? Obviously, you can tell from above that I'm going with the Raw team with Strowman as one of the survivors and Drew McIntyre will join him as well because WWE is all about pushing Drew right now, which is certainly fine with me.
If you have been keeping track with my predictions so far, I have three Raw wins and three Smackdown wins so far. A win by the Raw side gives them "brand superiority," which really means nothing other than a phrase for WWE to shove down our throats for about a week until they forget about it.
I expect this to be the longest match of the night and perhaps the best match as well. Give them 40-50 minutes, let everybody get a chance to the shine and the fans should be into it too.
Strowman is the easy pick to win the match because of how he is pushed on a consistent basis. Plus, this week's Raw had a segment where Strowman made a deal with Stephanie McMahon where if Raw wins, Strowman gets a match with Baron Corbin (likely at TLC next month) and then a Universal Title shot against Brock Lesnar (the Royal Rumble makes sense). That's the easy route WWE can take. That doesn't mean that they will do it like that because they always like to put twists in their stories.
There is nobody on the Smackdown side who I think should be the winner. Nobody is really being booked well enough where I think they need to get the win to give them some more momentum. Strowman and McIntyre are the best choices in this match.
Final Thoughts
The lineup for Survivor Series is solid. I don't want to say great because I think it is hurt by the lack of build to matches such as Bryan vs. Lesnar and Charlotte vs. Ronda, with less than a week of hype for each match. Add on the fact that fans don't care about this "brand supremacy" stuff as much as WWE thinks we do. It's just an empty phrase with no meaning. They don't do a good job of making us care about Raw vs. Smackdown. Once Survivor Series is over, it's as if it didn't exist and it's onto business as usual.
I think the match quality should be pretty good, so that will save Survivor Series from being a bad show. The two elimination matches will be long, while Lesnar vs. Bryan, Rollins vs. Nakamura, and Rousey vs. Flair are all dream matches to some degree. That helps me care about the matches a bit more.
You can watch WWE Survivor Series this Sunday, November 18th at 7 p.m. ET/4 p.m. PT on WWE Network with the Kickoff Show running for two hours beginning at 5 p.m. ET/2 p.m. PT. The expected run time is going to be around four hours for the main show. If you miss it live, you can watch it on demand at your own convenience. I'll be back on Monday for a review of the event.