Kevin Harvick is entering Darlington and the NASCAR Playoffs with momentum. After a dominant eight-win 2018 season, Harvick entered 2019 struggling a bit. He was still getting great finishes and was solidly in the points for the Playoffs, but Harvick wasn't winning.
Then something clicked in the summer. After a win in Loudon and two top tens at Pocono and Watkins Glen respectively, Harvick powered through to win at Michigan. Even a 39th place finish at Bristol was a bit misleading after a part in the rear of the car broke. Before he had to take the car behind the wall, Harvick was up front for most of the race, leading 28 laps.
Now, with two races left until the Playoffs, Harvick and his Stewart-Haas Ford is getting back to their 2018 form that got them to the Championship 4. There's still a long way to go and Harvick is focusing on one race at a time but he talked to The Comeback about his hopes for the rest of the season, winning at Darlington, and his paint scheme for the throwback weekend.
Phillip Bupp: Bristol aside, you've been banging out great finishes, including two wins recently. Do you feel the team has turned a corner on the season, especially in the run up to the Playoffs?
Kevin Harvick: Yeah. I mean, even at Bristol, broken part and had one of the fastest cars, so the speed of the cars is really the thing that we focus on the most to try to evaluate where we are from a performance side of things. Being able to lead laps and pass cars and do the things that we've done over the last few months is a definite step in the right direction and we've been able to get to victory lane a couple times over the summer. So, with the few opportunities that we had at the beginning of the year, we kind of fumbled on those opportunities and didn't make it happen for one reason or another, but definitely, definitely seems to be going in the right direction. Still have room to improve and lots of things to work on, but it's definitely closer than what we started the season, for sure.
PB: Yeah, you're right. The situation at Bristol seemed like more of an anomaly. Rodney Childers said it was the "locker inside the rear gear," which I'll admit I had to look that up to figure out what it was. Did the team fix that issue and is that going to be a concern going forward?
Harvick: I actually have no idea [laughter], to tell you the truth. They told me that they feel like they have all that under control. It's not actually a part that we built. Those parts come from other places and honestly, there's really… A lot of things that you buy from the outside that a lot of the other teams buy as well, so it's not something that you normally hear a lot about.
Check out this video to see @joeylogano reveal the Shell-Pennzoil @TooToughToTame paint scheme for #NASCARThrowback weekend! pic.twitter.com/RsjomsQDh3

— Shell Racing US (@shellracingus) August 27, 2019
PB: Going into Darlington, everyone's got special paint schemes entering the throwback Southern 500. Joey Logano recently revealed his, and it's a throwback to your 2007 Daytona win. How does it feel that you've been in NASCAR long enough that people are now racing throwback schemes based on your cars?
Harvick: [laughter] Yeah. Honestly, it's kind of weird to have somebody running a throwback paint scheme, for sure. I think to see Joey, and running that car obviously brings back a lot of memories of winning the Daytona 500, and they're obviously having fun with the promotion with his wife and the things that they're doing with that. That's really what the throwback weekend is all about. You see a lot of different paint schemes, a lot of different Hall of Famers, a lot of different drivers, crew chiefs, personnel that have been in the sport for a long time. For everybody involved, it's fun to see the different approaches that people take to things.
For us, running the Big Buck Hunter car is definitely a lot of fun because as a kid, that was a video game that I played, and to see and learn about all the things that they have going on with Busch Beer and the game itself is fun to promote, as well. It's a fun weekend.
I had a great time chatting about this awesome promotion from @buschbeer and @bigbuckhunter. Watch and find out how you could win your own Big Buck Hunter arcade unit while I'm racing at @TooToughToTame. pic.twitter.com/kf763gT2JI

— Kevin Harvick (@KevinHarvick) August 29, 2019
PB: That's what I was going to get at too. I saw your car for this weekend and some might not feel it's a throwback because it's not to a previous car, but I remember playing it when I was a teenager, so I'm considering it a throwback. How'd that paint scheme come about?
Harvick: Well, Busch has done a great job with really all the different schemes and all the different promotions that they've done this year. With their commitment to wildlife conservation and the things that they're doing with the National Forest Foundation is a lot of fun to be a part of. Being a hunter and spending a lot of time outdoors and doing the things that I like to do and seeing the car be able to be a part of that and have run the National Forest Foundation paint scheme and won in that at Loudon, Busch has just done a phenomenal job of putting a lot of time and effort and thought into the things that we do. The partnership with the video game and all the things that they're doing there is definitely fun to be a part of.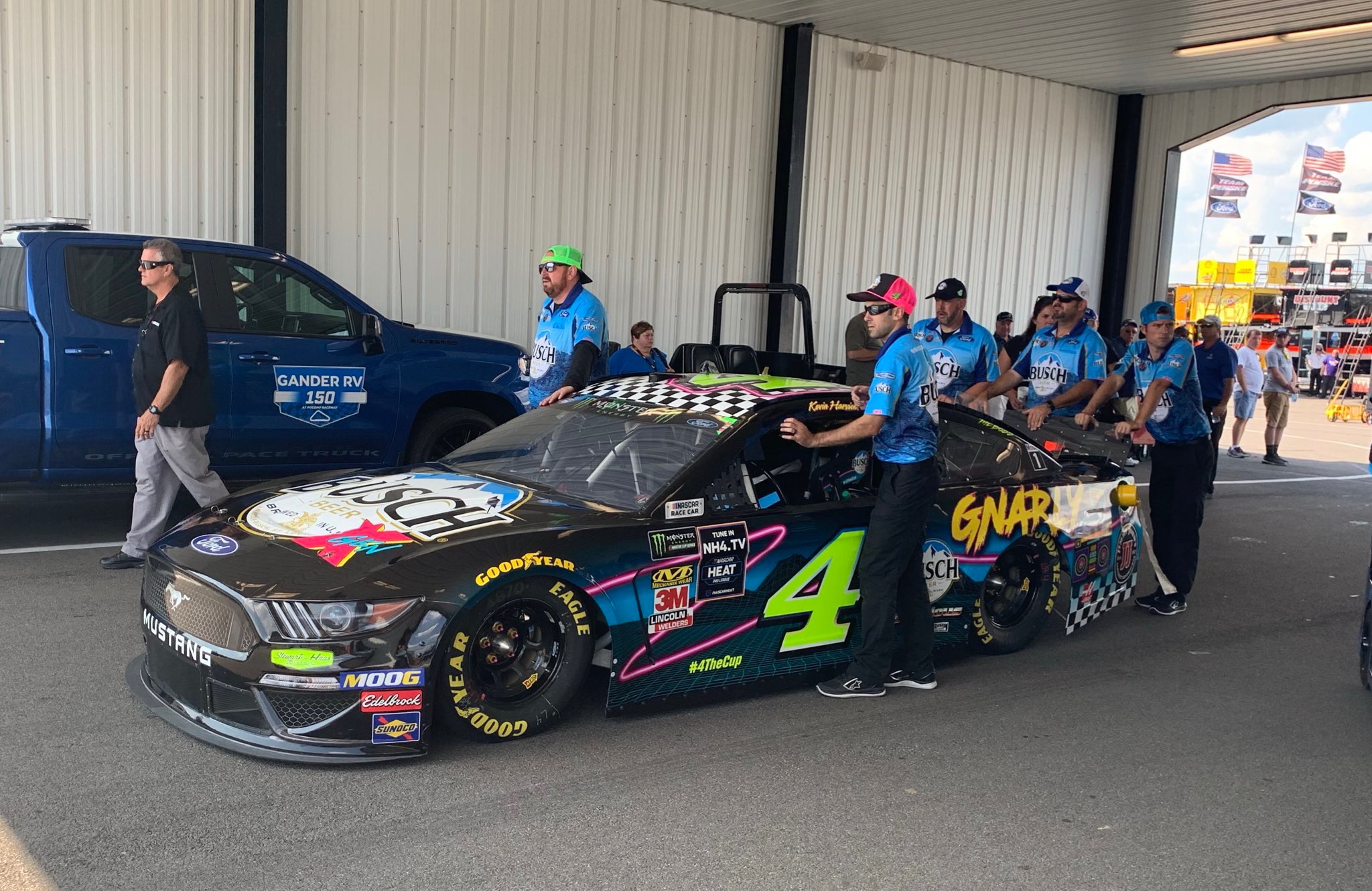 PB: Yeah. Busch, they've done, I think I counted eight, different paint schemes this year and like you said, the National Forest Foundation, they had the paint scheme at Daytona where people won cans made from your car. As a millennial, I love the All-Star Race, the millennial paint scheme, but I'm kind of closer to Generation X, in terms of pop culture and all that, so I thought your Generation X paint scheme was excellent. Which one has been your favorite so far?
Harvick: Oh, that's a good question because you look at the way that we kicked off the year with the can promotion and the way that they've got away from sticker slapping and in-car cameras and all the things that is the traditional thought process and getting outside of the box of things that we're doing and, I'll be honest with you, most of the things that I've seen on paper, including the can and especially the pink car at the All-Star Race, the millennial car, you look at them and you laugh and you're like, "Those will never happen," but they did.
I think that the millennial car was probably the best example of the things that they've done this year, which is trying to disrupt the market and do things a lot differently than they've been done before. It's been a long time since I've had a car that had as much attention as the millennial car had. It didn't even have to go on the racetrack. Fortunately, we ran well in the race and performed well, but that was just the icing on the cake. That was definitely eye-opening.
You hear so many people talk about things have changed or things you do different, and it's not this, it's not that, well, I can tell you that several of the cars that we've ran this year, the Gen X, the millennial car, the can car, several of those cars have been topics of conversation and had a lot of play around them, so that's been fun to see the marketing side of things really take a turn.
Busch has just, they've done a great job and Mobil has done a great job of all the things that they've done with all the different paint schemes and commercials. From a driver standpoint, it's what you want. You want to be able to perform well on the racetrack and have your sponsors out there marketing the heck out of your car and your brand and your race team. We've been fortunate to have great sponsors that are doing that.
PB: Oh yeah, for sure. Now, you've been fortunate to win all the crown jewels at least once in your career. What is it about winning Darlington that's special to you?
Harvick: Well, Darlington just has a huge spot in history in our sport, being the first superspeedway. It's really the closest thing that you have to what they raced on in the '60s and '70s. A lot of these racetracks have changed so much through time and Darlington is just one of those places that is so unique and the racetrack itself is so narrow, the racing groove. But you think about the cars that they ran in the '50s and '60s and '70s and '80s, it's still relevant today because of the shape of the racetrack and the way that you drive the track is virtually the same. It's got deep history and it's very much similar to how they used to drive and race around the racetrack, just at a different rate of speed.
This year, it'll be, obviously, a little bit different than it has been in the past, with the higher downforce and the lower horsepower, so it'll be unique. There's a lot to learn in a short amount of time on Friday during practice, for sure.
PB: Now, when you won, it was the last Southern 500 before it went back to its traditional Labor Day weekend. Winning the Southern 500 is huge no matter when you win it, but is there a little bit more motivation to get back to victory lane now that it's on Labor Day weekend?
Harvick: Not for me, honestly. I don't really care what day it's on if we can walk out…If they call it the Southern 500, I don't care what date it's on [laughter].
PB: You already got the motivation to win every week.
Harvick: That's right. Yeah, dates don't matter to me.
PB: Now, a couple races to the Playoffs, what's the mindset going in for you and the team? Are things similar to last year when you got to the Championship 4 or is it different this year?
Harvick: It's been a very different year, but every year's different. I think as you approach the Playoffs, for us, it's really about Darlington this weekend. We haven't even really had a conversation about the Playoffs yet. It's really just a one week at a time, but the year has definitely been a lot different than last year. You could obviously draw similarities to a number of different years, but this is a very short-term memory game. In my opinion, you have to be simple-minded and forget things pretty quickly, and I think our team does that pretty well.
It's really just been the normal approach of trying to get to things one race at a time and as we get to Vegas, we'll do the same thing. The mentality is a little bit different in the Playoffs because it's more of a survive and advance type method and you go from there knowing what you have to do from each week as you go through the rounds of the Playoffs.