BYU vs. San Diego State Aztecs
Dec. 20, 8:00pm (ET), ESPN
Qualcomm Stadium (San Diego, CA)
Line: BYU -2 1/2
What's old is new again as long time WAC and Mountain West rivals clash in a first ever bowl matchup between these two teams. The Aztecs may have a bit of a home field advantage in this one, playing all their home games at Qualcomm and all, but BYU clearly isn't going to be intimidated by that thanks to a schedule that saw them play some of the toughest opponents possible for the independent school. BYU will look to remind the Aztecs what's up in this series as they own a 27-7-1 record over the Aztecs with their last meeting being a 24-21 win for the Cougars in 2010. So, will history repeat itself or will home cooking be in order in the Poinsettia Bowl?
Sexiness: Well, since this one is emanating from San Diego, what's more appropriate than picking someone like Jamie Chung, who was a cast member on the Real World: San Diego back in 2004 and she actually has a true acting career under her belt since then. But, the real reason to pick her to represent this game is that she is pretty under the radar, which it's safe to say this game is. However, that doesn't mean she and this game both aren't capable of producing some great things. Underestimate them at your own peril.
A word about our sponsor…: According to their website SDCCU is the largest locally owned financial institution in San Diego County with $5.8 billion in assets and has been around since the 1930's. Originally it served just San Diego County employees, then in the 1970's opened to all residents of the county and now is open to everyone. It is a non-profit that uses it's profits to give back to it's members. O.k., are you still awake? I know this game is going to be a later one, so perhaps we're just giving you a chance to practice staying awake for the end of this one?
BYU (7-5)
Aces: The Cougars defense has been it's backbone this season, with opposing offenses averaging just 14.7 points per game this season. They rank 3rd nationally in total defense (266.3 yards/game), 13th in passing defense (182.1 yards/game), and 2nd in rushing defense (84.3 yards/game) and are doing so on the backs of three names you've probably not heard of, but should know – LB Brandon Ogletree (92tkls, 11.5tfl's), DB Daniel Sorensen (65tkls, 3INT's), and LB Kyle Van Noy (18.5tfl's, 11.5 sacks). Without the sturdy play of those three this team isn't going bowling.
Deuces: The rushing game hasn't exactly gone off at any point in time this season and it shows for a team that ranks 62nd in rushing average at 161.2 yards/game. They only went over 200 yards against one FBS opponent, Hawaii, and it has stalled out what could've been a great offense more often than not. Their leading rusher is Jamaal Williams who has just 744 yards and 11 rushing TD's on the season.
Wildcard: Can Riley Nelson find Cody Hoffman often in this one? Nelson hasn't had a great season, but it's been good enough – completing just 59% of his passes for 2,011 yards and just 13TD's to 12INT's. However he's completed a vast majority of his passes to Hoffman (90rec, 1,134yds, 11TD's). Yes, that's right Hoffman has 11 of the teams 25TD's and they'll need them to go off to beat the Aztecs.
San Diego State (9-3)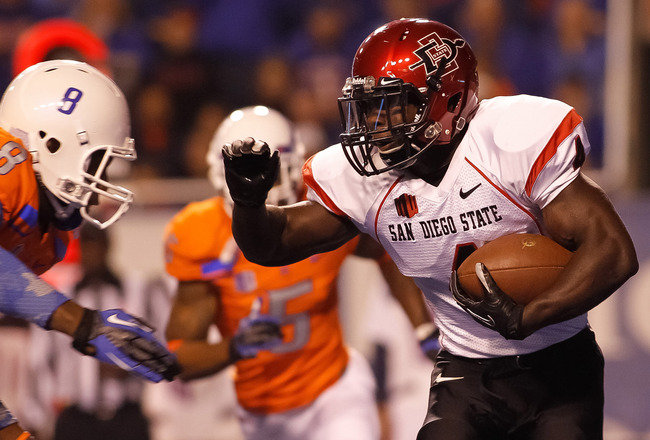 Aces: This team is built on the image of it's head coach, which means running the football down your throat. Thankfully, they've got an underrated RB in Adam Muema who has run for 1,355 yards and 16TD's on the season. Despite the 2nd ranked rushing defense of BYU the Aztecs need to run the ball well in order to win football games.
Deuces: SDSU's secondary leaves quite a bit to be desired as they've given up 23TD's to opponents on the year and is the major reason they are allowing teams to score nearly 25 points per game. They'll be going up against a great WR in Cody Hoffman so they'll need to be on their game to say the least if they want to stay in the game.
Wildcard: This team started off the season 2-3 and SDSU fans were starting to question if Rocky Long had what it took to get this team above .500. Instead of the season falling apart the Aztecs are now sitting on a 7 game win streak and are arguably one of the hottest teams in the country. Can they keep that up with nearly 3 weeks off?
So you don't forget…: Despite the old Mountain West rivalry between these two schools don't expect much hatred coming out of Aztec's head coach Rocky Long who was born in Provo, UT – the home of BYU.
Crystal Ball: This is a really tough one because the crowd could be a major factor in this one in favor of the Aztecs, but on the field it's hard to see how SDSU has proven they are head and shoulders better than a team who has 4 of it's 5 losses to Top 25 teams. I'll say this much, this game may be more about who's defense can create more pressure on the other's QB and if that's the case I've got to go with the Cougars narrowly. However, I've got a feeling playing at home helps the Aztecs just enough for a squeaker of a win and a mild upset.
Score: San Diego State 28, BYU 27