It may be considered old fashioned to some, but subscription to RSS feeds is still a viable way of keeping up to date with content from various websites, podcasts and other forms of social media. Not sure what RSS feeds are, watch this. One of the most popular ways to organize and subscribe to RSS feeds came from the people at Google with the retired Google Reader. When Google pulled the plug, the search for an alternative led many to Feedly (myself included).
If you would like to subscribe to Crystal Ball Run in Feedly, simply follow these quick directions.
1. Make sure you have a Feedly account. It is free to sign up, and if you choose you can pay for some enhanced pro features.
2. Click this button…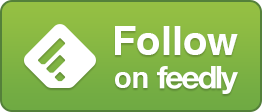 That should be it! Now our content will update right alongside your other RSS feeds and you can easily share your favorite stories from your Feedly by sharing them on Twitter, Facebook, Google+ and more. If you are new to Feedly, take some time to explore all of the features you get on the free service (it should be more than enough for most). It is highly customizable and you can even use it on your iPad and mobile devices.