And so begins Round 2 of the Movember MLB Mustache Madness tournament. The cupcake duals of the first round are over and the mustached men have been separated from the peach-fuzzed boys. First up in Round 2, our current player reliever representative John Axford against the current player starting pitcher winner Carl Pavano.
John Axford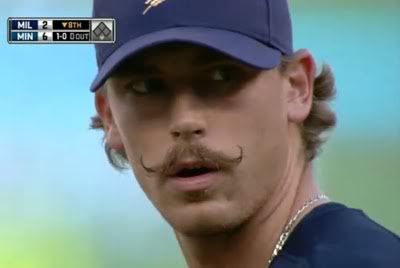 Not only did Axford win big with 84% of the vote in his first round match against Clay Zavada, but he also took home the American Mustache Institute's 2011 Robert Goulet Memorial Mustached American of the Year award. If he loses at all in this tournament, it is going to be an epic upset.
VS.
Carl Pavano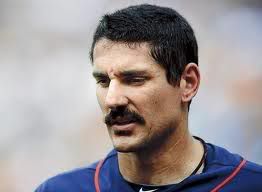 Let's be honest, Pavano basically got a first round-bye going up against Derek Holland's pre-pubescent mustache. Even then, he still only garnered 65% of the vote. The caterpillar on his lip is going to have to do a lot better if he thinks he is going to knock off Axford.
Time to vote! (one vote per matchup per day)
[polldaddy]5647332[/polldaddy]