Where an NFL team chooses to spend its salary cap dollars can be an insightful peek at where their priorities are or their views on perceived roster deficiencies. It can also provide clues about areas they deem of less importance, or because of how contracts are structured relative to a player's production, positions that are inherently less expensive at a given time.
Often, positional spending simply allows us to see quirks that have no direct bearing on how the team may perform in a given season, but sometimes it's more than that. It's a way to predict the future, especially when talking about positions that cost a team a lot more or a lot less money had they made a decision a year ago.
Here are seven teams that have seen positional spending rise or fall in a significant way in the 2016 offseason based on OverTheCap.com's financial data and how it could affect or not affect their respective win-loss records this year.
Dallas Cowboys: Offensive Spending Up
Cash spent by the Cowboys on its offense went up considerably from 2015 to 2016, from just over $58 million to now over $93 million, the most in the league. It's not because of significant additions to the roster during the offseason but rather current player contracts heading into more expensive years. Tight end Jason Witten's cap hit this year has increased by $2.5 million, left tackle Tyron Smith is earning $1.8 million more and right tackle Doug Free has a cap hit of $2.5 million more.
The Cowboys' two biggest jumps in cap hits on offense this year are receiver Dez Bryant, who went up from $7 million to $13 million, and quarterback Tony Romo, who went from just under $15 million to just under $21 million. The only significant addition in offensive spending is 2016 first-round draft pick Ezekiel Elliott, who will cost the team over $4.5 million in cap space this season.
None of this spending is a bad thing so long as the Cowboys get returns on their investments this year. While Dallas' offensive line remains one of the best in the league, they matter little if players like Romo and Bryant aren't on the field. Both men missed significant time with injuries last year, including two collarbone fractures suffered by Romo, forcing both of them to end the year on injured reserve.
That's the risk inherent in giving out high-value contracts to any player. While these players are both talented and important enough to the team to have earned them, it hurts doubly when they miss time due to injury. Not only does that lead to money spent on players who aren't playing, it also affects the quality of play. Bryant's and Romo's injuries, in particular, are why the Cowboys ranked 31st in offensive DVOA last season according to Football Outsiders. Now, if these players can all stay healthy, Dallas' offense should perform much better and thereby justify the paydays. It's less about the money spent in Dallas than the players being on the field and effective.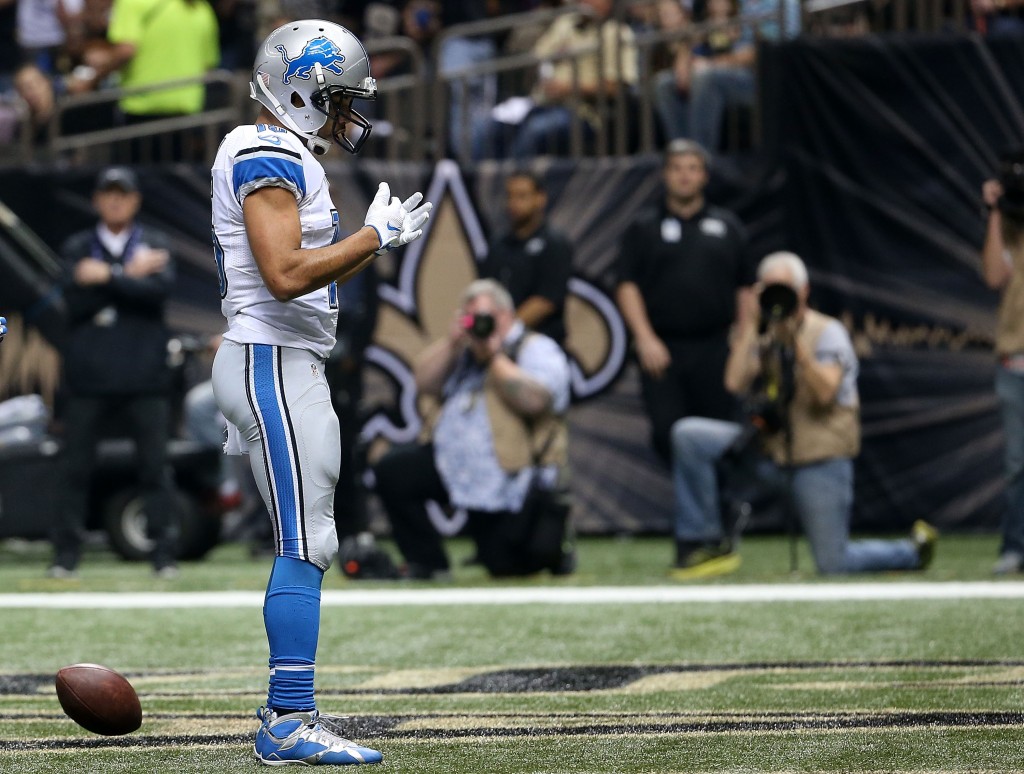 Detroit Lions: Wide Receiver Spending Down
It's easy to figure out why Detroit Lions spending at wide receiver is down by over $6 million this year; the retirement of Calvin Johnson. But it's also interesting to look at the ways the shape of the Lions' receiver spending has changed beyond Johnson's retirement.
The $19.3 million currently being spent on receivers is mostly due to two players, Golden Tate and Marvin Jones. Tate, who signed a five-year, $31 million contract with the Lions in 2014, has a cap hit of over $7.1 million, a marked increase from the nearly $3.1 million he made last year. The addition of Jones has added another $6.6 million to the books for 2016. These may seem steep, but keep in mind that had Johnson not retired, he'd have a $24 million cap hit this year, which would have been nearly $10 million more than the next-highest paid receiver in the league, Atlanta's Julio Jones.
Johnson's retirement will have a greater effect on Detroit's offense than it does on the Lions' financial bottom line. After all, he was a six-time Pro Bowler whose last season without 1,000 receiving yards came in 2009. But Lions quarterback Matthew Stafford thinks it's quite possible for his team to have an even more effective offense in 2016 without Johnson, saying in a recent interview with SiriusXM NFL Radio, "We used to feature Calvin, and everybody kind of got theirs after that. It's going to be, I think, tougher for defenses in a certain way in that they don't know who we're going to. There's no guy to key in on," adding, "We're probably just going to spread the ball around a bunch, and a bunch of guys will get a ton of catches and we'll be alright."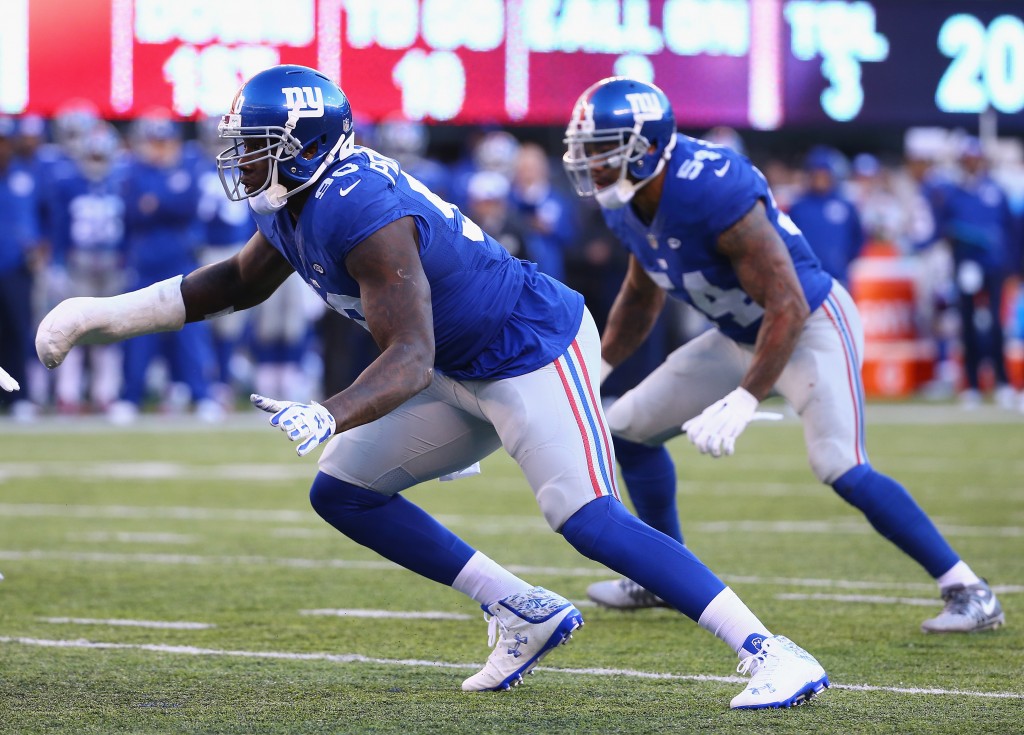 New York Giants: Defensive Line Spending Up
Defense was not a strong suit for the New York Giants in 2015. From yards allowed to points given up and sacks earned, the defense helped dragged down an offense that was Top-10 in efficiency. It's clear that their first order of business was to shore up the defensive line, at least based upon the spending spree they went on this offseason.
This spree nearly doubled their spending on the line from a year ago. Last year, their defensive linemen had a collective cap hit of just under $18.8 million. In 2016, that number has risen to $36.6 million. It's all essentially because of three men, all veterans signed during free agency: Defensive ends Olivier Vernon and Jason Pierre-Paul and defensive tackle Damon Harrison.
Pierre-Paul was brought back on a one-year, $10 million deal. Harrison was signed to a five-year, $46.25 million contract, and Vernon had one of the highest-value contracts signed during free agency, coming aboard on a five-year deal with a maximum value of $85 million. Harrison's cap hit will be $6.6 million, Vernon's $13 million and Pierre-Paul's the straightforward $10 million amount.
It's clear that the Giants' chances for a defensive rebound this year center around these three players and whether or not the team spent wisely will be determined by how well that side of the ball performs and how influential it is to their ultimate win-loss record. Indeed, it could also determine the fate of general manager Jerry Reese for 2017 and beyond. Pierre-Paul totaled only one sack in his eight games played after returning from an offseason fireworks accident. Vernon is a talented pass-rusher but has only one season with double-digit sacks and has already drawn cries of being overpaid. Harrison is an accomplished run-stopper and could actually prove to be the bargain of the three, especially considering his 2016 cap hit versus the other two.
Cleveland Browns: Safety Spending Down
The Cleveland Browns are yet again reshaping their image in an attempt to finally be a contender in the AFC North, cleaning house in the coaching staff and front office following the close of the 2015 season. As is customary in these type of rebuilds, veteran players are often casualties, being released for myriad reasons including scheme fit, production versus contract costs, and simply because new coaches like to have "their" guys instead of players favored by the former coach.
As such, the Browns made a great deal of personnel changes in the offseason, including completely reshaping both starting safety spots. Tashaun Gipson was not offered a long-term contract and was allowed to leave in free agency, ultimately signing with the Jacksonville Jaguars on a five-year, $36 million contract. The Browns also released fellow starter Donte Whitner, who was set to have an $8.45 million cap hit for 2016. Their releases take the Browns' safety numbers from $11.65 million to $6.17 million, with only four teams paying their safeties less this season.
To call this situation not ideal wouldn't be an exaggeration, but the moves have to be viewed as part of a long-term plan. Whether new head coach Hue Jackson and company will be given a long-term shot at completing it is unknown, given owner Jimmy Haslam's track record thus far. But it is unlikely that the changes to the starting safety positions will make-or-break the Browns in 2016.
Still, the two players tapped to replace Gipson and Whitner are mostly inexperienced. Jordan Poyer had four starts at safety in 2015, the first of his career, though he did pull down two interceptions, defended four passes, and had one sack to go along with his 37 combined tackles. Ibraheim Campbell spent his rookie year mostly on special teams but is now a front-runner to be a full-time starter. This collective lack of experience is sure to be something opposing offensive coordinators will try to exploit, and will likely find success doing so. But if the rest of Cleveland's defense can compensate for this, it may not be the liability it looks to be right now.
The Browns have veterans at cornerback, Joe Haden and Tramon Williams, who can help lighten the load for Poyer and Campbell. Plus, the team's commitment to improving the defensive front, particularly the pass rush, could also be of help. But this is definitely a prime example of a team's experience level dropping as its positional spending decreases.
Denver Broncos: Offensive Spending Down
We all know the saga of the Denver Broncos' offseason by now: The Peyton Manning retirement, the refusal to pay Brock Osweiler starting-caliber money for seven career starts, the Mark Sanchez signing, the Von Miller contract standoff, it goes on and on. It's been a tumultuous few months for the defending Super Bowl champions and their salary cap movements have reflected it.
Last year, the Broncos were spending more money on offense than any other team—nearly $77.5 million. This year, they currently stand at $66.7 million of cap space dedicated to offense, with only four teams spending less.
Because of Manning's expensive contract, the Broncos had over $19 million dedicated to the position last year. Now that number sits just below $7 million. So even though running back spending is up by nearly $8 million and receiver spending by $3 million, Denver's offensive cap hit has shrunk significantly. It should be noted, their offensive line spending has also decreased this offseason.
Robert Mathis is now in Arizona after making nearly $3 million last year. Guard Louis Vasquez was released in March; he was set to count $6.75 million against the cap this year but now gives the Broncos a net savings of $5.5 million. The only addition of note is left tackle Russell Okung, who was brought on with a five-year, $53 million contract that has a $5.2 million cap hit this year. As such, spending on the line has decreased from $25.2 million to $17.3 million.
These quarterback moves and offensive line shuffles, in particular, will certainly impact the Broncos' approach to the 2016 season. Now, more than ever, they have to rely on their superior defense and run game to effectively diminish any decrease in the quality of quarterback play. Doling out expensive contracts was just not possible for the fairly cap-strapped Broncos and now they will have to navigate the situation as best they can with the players they have available.
Minnesota Vikings: Safety Spending Up
In 2015, only three teams were spending less at the safety position than the Minnesota Vikings. In 2016, only five are spending more. There is one major reason for that: the five-year, $51.25 million contract signed by Harrison Smith in early June. The deal is the highest-ever tendered to a safety and now sets the market for new contracts for players like Eric Berry and Tyrann Mathieu, who will both be unrestricted free agents in 2017 unless they get extensions this summer from the Chiefs and Cardinals, respectively.
There is very little complicated about this jump in spending. Simply put, the Vikings found themselves a stud in Smith and wanted to compensate him accordingly. Over four seasons, he's had 234 solo tackles and 77 assists, interceptions 12 passes (four for touchdowns), defended 26 passes and garnered 5.5 sacks. In 2015, he was Pro Football Focus' top-ranked safety, beating out the likes of Earl Thomas, Malcolm Jenkins and Berry. And now he will be with the Vikings for potentially through the 2021 season should he be able to play out the entirety of his deal.
Smith isn't the only Vikings safety to get an offseason payday. Andrew Sendejo also received an extension worth $16 million over four years, one that gives him a cap hit of $4 million in 2016, up from the $1.07 million he made in 2015. He also had a good year with 57 solo tackles, 15 assists, one interception, three passes defended and a half-sack.
Sendejo isn't guaranteed to be a starter for that kind of money, though. The Vikings signed free agent Michael Griffin to a one-year, $2.5 million contract in March and coach Mike Zimmer said the job alongside Smith is open this summer.
No matter what, though, the Vikings appear to have a safety corps they are more than comfortable with, which is great news for a defense trying to serve as the team's rock while the offense under quarterback Teddy Bridgewater and running back Adrian Peterson continues to build an identity.
Indianapolis Colts: Defensive Spending Down
The changes in the Indianapolis Colts' defensive spending is similar to that of the Cowboys' increase on offense. It's not the result of any drastic roster additions or subtractions but rather due to the effects of time on veterans' contracts. A number of key starters are seeing their cap hits decrease in 2016 from where they were a year ago, which is why the Colts have gone from spending $77.3 million on defense to $67.6 million.
The primary culprit is at the linebacker position. Robert Mathis is in the final year of his deal with the Colts and is set to have a $5 million cap hit, down from nearly $7.5 million a season ago. Fellow linebacker Trent Cole took a pay cut in his salary, reducing it from $4.25 million to $2 million. There was also a drop of $2 million at cornerback due mostly to Vontae Davis' cap hit dropping from $11.25 million to $8.375 million.
Davis is 28 years old and an unrestricted free agent in 2018. Cole is 33 years old and a free agent next year. Mathis, who is 35 years old, is also an unrestricted free agent in 2017. So clearly we are seeing a case of paydays declining as a player gets older, a common practice in the NFL. The hope is that the lack of changes on defense doesn't mean the same-old Colts defense, which ranked 25th in points allowed and 26th in yards allowed last year. The silver lining, should that be the case, is that the Colts will be spending much less money in 2016 and some of these aging veterans should be moving on in 2017.