Update: After one week, Leon Powe's playing days in Puerto Rico have come to a close after just four games. According to the San German Athletics team website, Powe apparently has a deal lined-up in the NBA but didn't discuss specifics. Powe averaged 7.3 points and 3.5 rebounds in 18 mintues per game during his stint in Puerto Rico
—————
You can officially take Leon Powe's name off of the available NBA free agent list.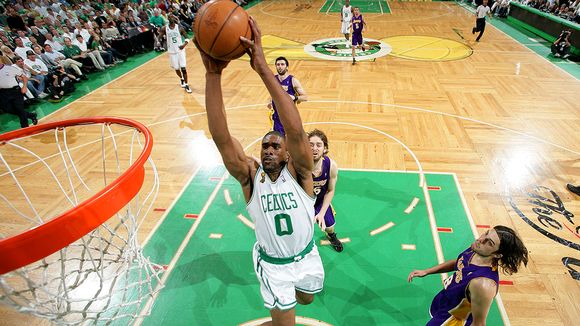 Next stop: Puerto Rico.
With talks last month between Powe — the former Boston Celtics, Cleveland Cavaliers and Memphis Grizzlies 6-foot-8 forward — and the Chicago Bulls about strengthening their front line went to the way side, Powe has now taken his game to the eight-team BSN (or National Superior Basketball League as it's also known) by signing in Puerto Rico with the San German Athletics.
Powe joins a growing list of players who boast NBA experience, a rather eclectic combination of players who have come and gone in the league and those hoping for another shot at playing for an NBA franchise.
Along with Powe, the BSN features Al Thornton (Brujos de Guayama), Ricky Davis (Piratas de Quebradillas), Melvin Ely (Brujos de Guayama), Patrick O'Bryant (Vaqueros de Bayamon), Mike Sweetney (Vaqueros de Bayamon), Jerome James (Caciques de Humacao), Rashad McCants (Caciques de Humacao), Donta Smith (Vaqueros de Bayamon), and Julius Hodge (Caciques de Humacao) among its most notable players.
Consider Powe one of those guys who will be back in the NBA before too long.
At 28-years-old, Powe split last season between Cleveland and Memphis, appearing in 30 games and averaging 5.3 points and 2.1 rebounds in roughly 11 minutes per game. After tearing his ACL and meniscus during the 2008-09 season with Boston, has not yet regained the form that made him a standout player in Game 2 of the 2008 NBA Finals against the Los Angeles Lakers, when he went for 21 points in 15 minutes of action.
Can the BSN be a springboard for Powe to jump back into the NBA next season? Time will tell. One thing is for sure: the league in Puerto Rico has suddenly become a haven for NBA vets and free agents.
In early February, Allen Iverson and the BSN engaged in exploratory talks about a possible deal that would lure the11-time NBA All-Star to the league. The league — which started league play last week in their 30-game season — reportedly pay their star talent and NBA types $20,000 a month, plus their living expenses.
It may not be the veterans' minimum or a free agent payday most of the guys are looking for in the NBA, but it beats not getting paid to play.
Iverson still doesn't have a job.
As for Powe, he's getting ready to settle in with the San German Athletics.
[twitter]