Paul Pierce out 2-4 weeks with broken hand

Nuggets vs. Nets, 7:30 p.m.
As if starting 5-12 was not bad enough news, Brooklyn now has to deal with a major injury to one of its best players. That mini-turnaround going on in the burough might be hitting a speed bump.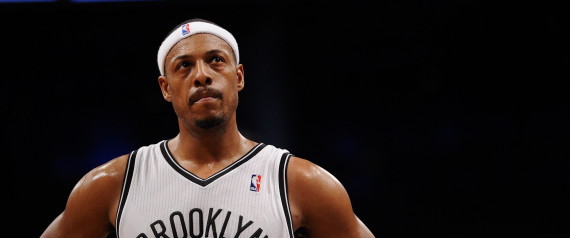 Paul Pierce will miss the next month potentially with a broken bone in his right hand. This could not come at a worse time for the Nets as it seemed like they had finally gotten some form of rhythm together after the soda incident. The Nets are actually showing some signs of life and have three of their last 10 games. That is pretty good when you have won only five of the first 20.
Losing Pierce will hurt. Unlike Kevin Garnett, Deron Williams and Brook Lopez, Pierce has been relatively healthy throughout the season and has played up to expectations. Pierce is averaging 12.4 points per game on 36.8 percent shooting. OK, those numbers are not great, but many expected him to slow down this season. And nobody is playing well for this struggling Nets team.
Losing Pierce is not going to help very much.
Jazz still swinging

Jazz 109, Rockets 103
That is called a win streak, folks. Utah is on a win streak. Trey Burke and Gordon Hayward led the way as Utah blasted past Houston for the win. Burke scored 21 points on 9-for-18 shooting and Hayward had 29 points for 12-for-18 shooting. Utah is very good when these two players are playing this well. It is certainly enough to withstand James Harden's 37 points. But 9 for 28 shooting on 3-pointers is not going to help when Houston is trying to figure out where the wins are going.
Wizards run past Magic

Wizards 98, Magic 80
Glen Davis put it succinctly after the game: The Magic just did not play well at all. Poor shooting and worse 3-point shooting enabled the Wizards to get ahead early in the second quarter and coast to the finish line. Trevor Ariza scored 24 points. John Wall scored 16 points and had 13 assists, all before the third quarter. Washington had this game under its complete control after giving up a run to allow a tie after one quarter.
Hornacek voices effort concerns

Suns vs. Grizzlies, 8 p.m.
The Utah Jazz now have three wins thanks to a weekend win over the Suns. That is enough to make any .500 team question themselves just a little bit. Suns coach Jeff Hornacek did indeed voice the concerns about effort after losing to Utah. It will be interesting to see how a young team responds to that. Now would be the time to highlight that. Memphis is a team that might be without Marc Gasol, but is never short of effort.
LeBron player of the week… again

Pistons vs. Heat, 7:30 p.m.
No surprises here, LeBron James is the Eastern Conference Player of the Week once again. James won the award for the NBA-record 44th time in his career. He averaged 29 points per game on 60.3 percent field goal shooting in four wins last week for the Heat. Miami is cruising on a nine-game win streak.
Blazers make their statement

Trail Blazers 106, Pacers 102
It might be time to think of the Blazers as more than a quaint early season story. Like the Pacers a few years ago, the Trail Blazers are making their statement. Statement No. 1: We can beat the Pacers when they are making their early season move. Portland outlasted Indiana on Monday to snap Indiana's seven-game win streak. LaMarcus Aldridge scored 28 points and grabbed 10 rebounds. More impressively, Portland defeated Indiana when Paul George was at his absolute best, scoring 43 points for the Pacers. Who would be OK if this were the Finals?
Duncan delivers

Spurs 102, Hawks 100
Tim Duncan still has it. I do not know what IT is, but Duncan certainly still has it. He hit a fadeaway jumper from the elbow with 0.4 left to give the Spurs a two-point home win and keep San Antonio's mastery over Atlanta. Duncan has never lost to the Hawks in San Antonio. Duncan recorded 23 points and 21 rebounds, turning back the clock once again. The Spurs continue to deliver and win.
Long Holiday

Pelicans 131, Bulls 128, 3OT
Jrue Holiday completed a three-point play in the final stages of triple overtime, driving past two Bulls defenders and finishing acrobatically at the rim with his right hand while drawing the foul to end a marathon of a game in Chicago. The Pelicans continued to fight and persevere with Anthony Davis out of the lineup. Ryan Anderson scored 36 points on 20 field goal attempts in 57 minutes of play. Luol Deng had 37 poings in 56 minutes. This just was not a game either team wanted to end. Until Holiday kept the festivities going.
Mavs leave taxing November

Bobcats vs. Mavericks, 8:30 p.m.
The Dallas Mavericks are happy to see that it is December. November was a lot of hard work. No team in the NBA played as many games in the season's opening month as the Mavericks. They six sets of back-to-backs in playing 18 games. More impressively is they survived. Dallas went 10-8 in November. The momentum hopefully will carry over into December when the schedule should get a little more relaxing for this team.