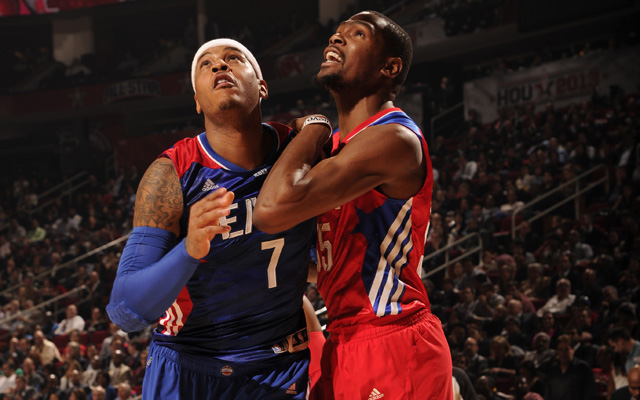 In the NBA, we are getting accustomed to hearing "Durant wins the scoring title, LeBron wins the MVP."
It is usually close, but Kevin Durant has edged out both LeBron James and Kobe Bryant to score the most points in the league each of the last three years.
With a week remaining in this year's regular season, Durant currently sits in second behind Carmelo Anthony.
Anthony is averaging 28.6 points per game, while Durant is just a hair behind at 28.3. I am going to say the race is between these two, but you never know with Kobe Bryant (sitting in third at 27.3 PPG), who might be trying to score 60 points a game to get the Lakers into the playoffs.
Looking at the schedules, the Knicks have five games remaining against the Bulls, Cavaliers, Pacers, Bobcats and Hawks. The Thunder have four left against the Warriors, Blazers, Kings and Bucks.
The Thunder have a lot more to play for at this point, currently tied with the Spurs for the top seed in the Western Conference. If we know anything about Durant, it is that he loves to play under pressure and he is going to do whatever he can to make sure his team comes away with home court advantage.
The Knicks, on the other hand are just about locked in to the second seed in the Eastern Conference. They need to hold on to a 2.5 game advantage over the Pacers, but the number one seed has been out of reach for weeks.
With that being said, what it is going to come down to is who wants it more. The scoring title is very much an individual award. Both players are capable of going out there, hogging the ball and putting up 40-50 points a game for the rest of the season.
My perception of Anthony will always be that he is the more selfish of the two. He loves to score and I am sure he would love to add his first scoring title trophy to his shelf. Especially since Melo does not have to worry as much about winning, he can focus more on taking a few extra shots to fill up the stat sheet.
Durant is going to do what it takes for his team to win and if that means passing to a teammate for a better shot, that is probably what he will do. He would definitely sacrifice his fourth consecutive scoring title for the number one seed.
So taking those things into account, my pick for this year's scoring champ is Carmelo Anthony.
I am really hoping it stays close because the Knicks and Thunder both play at 8 p.m. Eastern next Wednesday and it could be interesting to see how both players handle that.