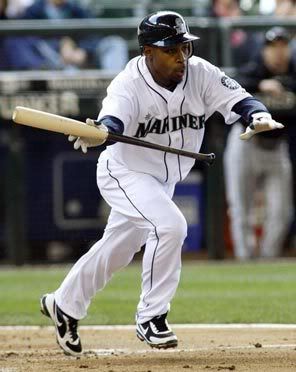 Trying to compete in the AL West over the next several years is not going to be easy for the Seattle Mariners. The Rangers are overflowing with young talent and new cash inflow. The Angels have Albert Pujols and a seemingly endless amount of financial resources. Heck, even the Oakland A's seem like they could be a force to be reckoned with in a few years with Yoenis Cespedes and their restocked farm system.
You'd think that those major obstacles would prompt the Mariners to try and think through every decision very carefully so that they don't do anything to shoot themselves in the foot as they can't afford even the slightest misstep if they are going to get competitive in the division and stay that way…
…or they could just hand a prominent starting job to Chone Figgins. Ready, aim, fire!
It is decisions like this that have put the Mariners in the unenviable position that they currently find themselves in. Promising anything at all to a player coming off a season where he posted a .484 OPS is just so wrong on so many levels, but the level it is most offending on is the one where they seem driven to make this decision as some sort of attempt to recoup the hefty investment they made in Figgins two years ago.
What the M's are failing to understand, or perhaps just willfully ignoring, is the basic economic concept of a sunk cost. Nothing they can do is going to change the fact that they still owe Figgins $17 million. He could post two more seasons of a sub-.500 OPS or he could find the fountain of youth and put up a .440 OBP and 150 stolen bases over the next two seasons and in either case he will still make $17 million. Economically speaking, Seattle should be behaving as if the money has already been spent (unless they want to plant a kilo of heroine and a few dead hookers in his trunk, that might get them out of paying him).
But the Mariners are doing the exact opposite of what every college freshman is taught to do in Economics 101 by telling Figgins that he has a starting job at third base regardless of what happens leading up to the start of the season. Not only will that not help them recoup their investment, it actually might cost them more in the long run. The second basic economic principle they are ignoring is the opportunity cost of having Figgins at third. While Seattle sits around crossing their fingers that Figgins remembers how to hit, they are closing down the opportunity for a more productive alternative to emerge.
That's the real shame here. The Mariners are not a talented offensive ballclub, but they do have some other potentially viable options at third base. Second-year man Kyle Seager wasn't overly impressive in his debut last season, but he is still young and has room to improve. After that is Alex Liddi, widely considered to be one of their top 10 prospects. He is a guy with a big offensive upside but who might still need work, or he might be able to learn on the job and give the Mariner lineup the additional shot in the arm it desperately needs. They could even take a long look at seeing what top prospect Vinnie Catricala has to offer. All they have to do is open the third base job up to a competition with Figgins and those youngsters, greatly increasing the odds that they come away with the optimal solution for their hole at the hot corner. Instead, they have already chosen Figgins and must accept his outcome no matter what it is, thus costing them a shot at something better than what Figgins has to offer, which probably isn't much.
This really isn't rocket science. The Mariners could easily learn from their MLB brethren on how to handle such a situation. In fact, a perfect example of how not to handle it is took place not too far down the Pacific Coast from them last year. The San Francisco Giants were coming off winning the World Series and in their post-championship celebration, they handed a two-year, $22 million contract to veteran Aubrey Huff. Huff then proceeded to develop a chronic case of Figgins-itis in 2011. From day one, he did not hit for average, he did not hit for power and he did not get on base. He was unquestionably terrible. The Giants, being the owners of a meager lineup not unlike that of the Mariners, should have been eager to find whatever alternative to Huff that they could, but they weren't, which is especially odd since they had super-prospect Brandon Belt on standby to take Huff's place. But instead of replacing Huff, they allowed him to play 150 games and rack up 579 plate appearances in a vain attempt to coax out of him the performance they thought they were paying for. Belt, meanwhile, got jerked around, being moved to different defensive positions and going back and forth between the majors and Triple-A. When the season ended, the Giants finished eight games out in the division and scored the fewest runs in the National League (only the Mariners scored less in all of MLB). Making matters worse, the Giants find themselves going into 2012 facing the same problem. Huff is the incumbent at first base, but the Giants don't know how he will produce. Belt is still there behind Huff and because he received such sporadic playing time last season, the Giants don't know how well he will perform either.
Had they been more ready to recognize Huff as a sunk cost, the Giants not only could have gotten better production out of their first baseman, but they also could have a more accurate picture of what kind of production they will get this season. They might have even been able to make some roster moves in the off-season to address the position if they wanted to, but they couldn't because they just don't know what they have. That's exactly what the Mariners are setting themselves up for by committing to burn another season (or at least a big part of it) on Chone Figgins. They won't find out what Kyle Seager is truly capable of. They won't be able to see if Alex Liddi is big league ready. They won't see first-hand if Vinnie Catricala can be a capable defender at third at the big league level. In other words, they are in a perfect position to go through this same depth chart uncertainty at third base again this time next year. And yet, Figgins will still have made the same amount of money regardless.
If we want to take a trip even further down the West Coast, we can see in ideal way to handle sunk costs. Going into the season, the LA Angels knew they had a potential problem with their fifth starter spot as Scott Kazmir was coming off a terrible season. He managed to hold onto the job out of Spring Training, but he knew he was going to be on an incredibly short leash if he didn't perform. Sure enough, he failed to get out of the second inning of his first start of the regular season and then was never heard from again. The Angels could have kept running him out there because they still owed him over $14 million, but they didn't. They recognized Kazmir was a sunk cost and moved on from him. In so doing, they were able to get a long evaluation of Tyler Chatwood, a prospect they later decided was not a part of the future and dealt him to Colorado for Chris Iannetta. They were also able to audition other players further down the depth chart, including their current fifth starter Jerome Williams. Had they refused to give up on Kazmir in some misguided attempt to salvage a return on their financial investment, it is quite likely that they wouldn't have ever given Williams a call up and seen what he could do. The Halos would have spent the off-season wondering what Chatwood could do and if he they should trade him for Iannetta. They would have wasted time and money and/or prospects scouring the free agent and trade market to find someone to take over the fifth starter slot. They would have actually expended more resources as a result of their efforts to get more return on resources they already spent. But they didn't because they handled the situation the right way.
The right way for Seattle to handle Figgins and third base would have been to follow the Angel model and open up the starting job to a competition. If Figgins wins it, fair enough. Good for him, everyone wins! But since that ship has already sailed, the least Seattle can do now is make it known that Chone may have the job for now but that they won't hesitate to send him back to the bench (or even unemployment) if he fails to make good on the immense amount of unearned faith he is being shown. If Seattle doesn't, well… then they will just be acting like the same old Seattle Mariners.