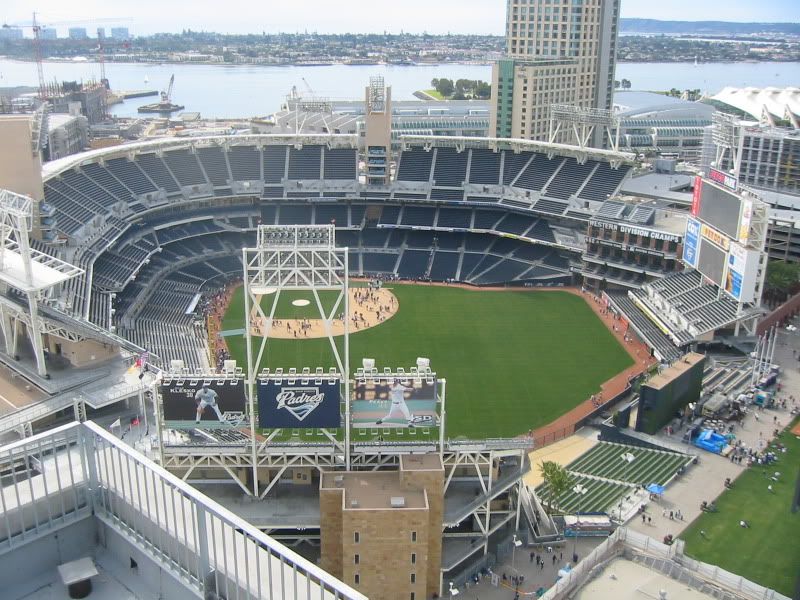 John Moores may be desperately looking to sell the San Diego Padres, but that doesn't mean he is going to sit around and be a lame duck owner until that happens. No, according to a report yesterday, the Padres are seriously considering moving the fences in at the cavernous Petco Park.
This is not a new idea though. The Padres have toyed with the idea before, which is why the timing of this potential move is so interesting. A few months ago, Moores was in the process of transferring ownership of the franchise to Jeff Moorad who was the team's CEO at the time. Now, Moorad is the ex-CEO after MLB put the kibosh on his attempt to buy the team. In his role as CEO/future owner, Moorad was staunchly against moving the fences in. With Moorad no longer standing in the way, the Padres are now giving the idea another go. But should they be?
We all know that Petco is one of the most pitcher-friendly parks in the entire league, but that doesn't mean that the fences have to be moved in. Every team in baseball constructs their roster with the unique characteristics of their home ballpark in mind and the Padres are no different. As such, changing the dimensions of the field would change the way in which this young Padres club conducts their on-going rebuilding efforts. That is not an insurmountable obstacle, but is it one that Moores should be placing in front of whoever the next owners are?
Interestingly, as the original article mentions, the club toyed with this idea before but scrapped it when Moores decided to put the club on the market back in 2008. Reading between the lines, it is rather obvious that Moorad, as the incoming owner, spiked the idea because that is not the way he wanted to build his club. The club is once again on the market, yet they've decided to commission another study even though they know from past experience that a prospective owner is going to want input on the decision. Considering that moving the fences in might setback the rebuilding process in any way shape or form, this sounds like a good way to hurt the franchise's value, assuming they go through with the move after the season, that is.
Of course, moving the fences in may not even be a good idea on its own merits. The Mets did pull the trigger on moving the fences in at Citi Field before this season and thus far, it hasn't changed much as Citi Field's park factor is actually rating as much more pitcher-friendly this so far this season. Yes, it is a small sample size, but the fact that the park factor is going the wrong way isn't much of an endorsement for San diego to burn any calories exploring the idea themselves.